Ethnocentric Political Theory
The Pursuit of Flawed Universals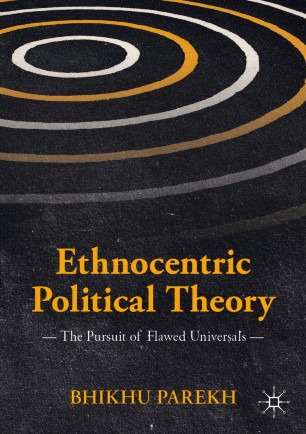 About this book
Introduction
Western political theory has many great strengths but also a few weaknesses. Among the latter should be included its ethnocentricity, its tendency to universalize the local. The political theorist makes universal statements about human beings, societies and states without making a close study of them, and about reason, tradition, human nature and moral ideals without appreciating how differently these are understood in different societies and traditions. These statements are often an uncritical universalisation of his society's modes of thought and experience. This book traces this tendency in different areas of moral and political life, and argues that a critical engagement between different perspectives offers one possible way to counter this tendency. Seeking universally valid knowledge is a legitimate ambition, but Western political theory cannot realise it without the help of the non-Western as its critical interlocutor.
Bhikhu Parekh
is Emeritus Professor of Political Theory at the University of Hull, UK, and was Visiting Professor at Harvard, the University of Pennsylvania, and McGill University, USA. He is the author of several widely acclaimed books on political philosophy, including
Rethinking Multiculturalism
(2000). He received a Lifetime Achievement Award in Political Studies and a Fellow of the British Academy and the European Academy.
Keywords
dialogue
human rights
equality
rationality
cultural pluralism
cultural identity
freedom of speech
public morality
civil obligation
political obligation
active citizenship
individual responsibility
integration
social cohesion
political belonging
national identity
forms of secularism
European identity
nationalism
tolerance
Bibliographic information