Challenging the Borders of Justice in the Age of Migrations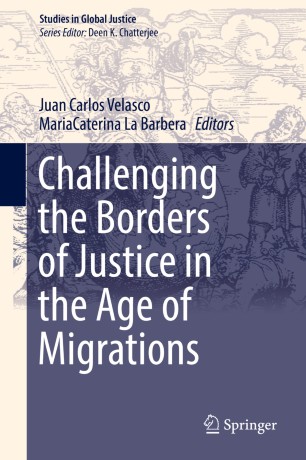 Table of contents
About this book
Introduction
The volume gathers theoretical contributions on human rights and global justice in the context of international migration. It addresses the need to reconsider human rights and the theories of justice in connection with the transformation of the social frames of reference that international migrations foster. The main goal of this collective volume is to analyze and propose principles of justice that serve to address two main challenges connected to international migrations that are analytically differentiable although inextricably linked in normative terms: to better distribute the finite resources of the planet among all its inhabitants; and to ensure the recognition of human rights in current migration policies. Due to the very nature of the debate on global justice and the implementation of human rights and migration policies, this interdisciplinary volume aims at transcending the academic sphere and appeals to a large public through argumentative reflections. Challenging the Borders of Justice in the Age of Migrations represents a fresh and timely contribution.
In a time when national interests are structurally overvalued and borders increasingly strengthened, it's a breath of fresh air to read a book in which migration flows are not changed into a threat. We simply cannot understand the world around us through the lens of the 'migration crisis'-a message the authors of this book have perfectly understood. Aimed at a strong link between theories of global justice and policies of border control, this timely book combines the normative and empirical to deeply question the way our territorial boundaries are justified.
Professor Ronald Tinnevelt, Radboud University Nijmegen, The Netherlands
This book is essential reading for those frustrated by the limitations of the dominant ways of thinking about global justice especially in relation to migration. By bringing together discussions of global justice, cosmopolitan political theory and migration, this collection of essays has the potential to transform the way in which we think and debate the critical issues of membership and movement. Together they present a critical interdisciplinary approach to international migration, human rights and global justice, challenging disciplinary borders as well as political ones.
Professor Phil Cole, University of the West of England, UK
Keywords
Exploitation of migrant workers
International Migration
Immigration from a Feminist European Perspective
Structural Inequalities
Gendering Global Justice
Borders and the Common Ownership Earth
National Borders
Human Rights
European cities and the duty of refuge
Case of Open Borders
Migration and Social Suffering
Migrants and Global Justice
Justice in the Age of Migrations
Earth and Immigration
Human Mobility in a Kantian Perspective
Limits of Global Justice
Right to Asylum
Muslim Women Within European Societies
Muslim Human Rights
Bibliographic information
DOI

https://doi.org/10.1007/978-3-030-05590-5

Copyright Information

Springer Nature Switzerland AG 2019

Publisher Name

Springer, Cham

eBook Packages

Religion and Philosophy

Print ISBN

978-3-030-05589-9

Online ISBN

978-3-030-05590-5

Series Print ISSN

1871-0409

Series Online ISSN

1871-1456