© 2019
Internet of Things Security and Data Protection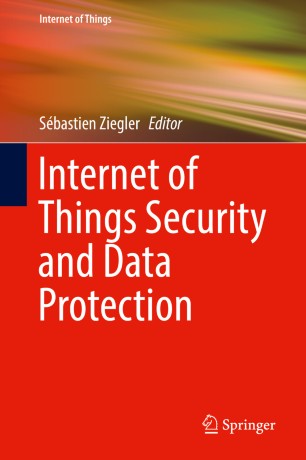 About this book
Introduction
This book provides an overview of the most recent developments in Internet of Things (IoT) security and data protection. It presents the results of several international research projects addressing this topic from complementary angles. It starts by analyzing the main privacy and security threats on IoT, as well as the evolution of data protection norms, such as the European General Data Protection Regulation (GDPR), and their impact on IoT. Through a comprehensive and systematic approach, the contributors present new perspectives on IoT & Cloud Computing security requirements. They discuss the most recent approach to support trusted IoT, including new models of privacy risk assessment, labeling and certification, and contractual tools (such as Privacy PACT). Practical implementations, such as in the European Large Scale Pilots on IoT for Smart Cities (Synchronicity), are presented, explaining how they address security, privacy and data protection. Finally, innovative models to secure IoT systems are presented for the network and end-nodes security, including network threats analysis.

Shares results from several international research projects on IoT, cybersecurity, and privacy;

Combines complementary expertise from top experts in IoT, security, and data protection;

Provides a comprehensive view on how to protect IoT deployments and make them comply with the GDPR.

Keywords
Internet of Things (IoT) Security
Privacy and Security Threat
Cybersecurity
Data protection
Personal Data Protection
IPv6 Network Security
IoT Security in Smart cities
Bibliographic information