Brain Hypoxia and Ischemia
with Special Emphasis on Development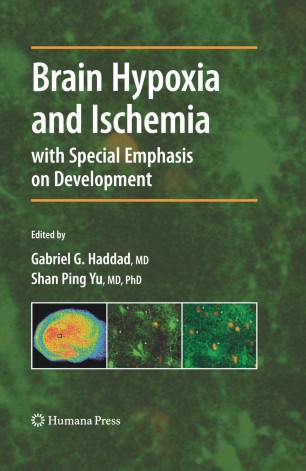 Table of contents
About this book
Introduction
Brain Hypoxia and Ischemia
Gabriel G. Haddad, M.D. and Shan Ping Yu, M.D., Ph.D., Editors
Brain Hypoxia and Ischemia explores the various aspects of cell death and survival that are crucial for understanding the basic mechanisms underlying brain hypoxia and ischemia. Chapters focus on a panorama of issues including the role of ion channels/transporters, mitochondria and apoptotic mechanisms, the roles of glutamate/NMDA, mechanisms in penumbral cells and the importance of intermittent hypoxia and gene regulation under these stressful conditions. The volume explores findings from both mammalian and invertebrate model systems and their applicability to human systems and diseases. Careful consideration is also given to differences in hypoxia and ischemia across development.
This volume aims to increase the understanding of these mechanisms and to stimulate research on better diagnosis and treatment of diseases that afflict the brain and potentially other organs when O2 levels are dysregulated. Brain Hypoxia and Ischemia is designed for neuroscientists, clinicians and medical/graduate students for use in both basic research and clinical practice.
Gabriel G. Haddad, M.D. is Professor of Pediatrics and Neuroscience and Chair of the Department of Pediatrics at the University of California, San Diego. He is also Physician-in-Chief at Rady Children's Hospital in San Diego.
Shan Ping Yu, M.D., Ph.D. is Professor of Anesthesiology at Emory University in Atlanta, GA.
Keywords
Brain
Clinical
Contemporary
Deprivation
Haddad
Hypoxia
Ischemia
Neuroscience
behavior
brainstem
cells
Bibliographic information