National Institute of Allergy and Infectious Diseases, NIH
Volume 2;Impact on Global Health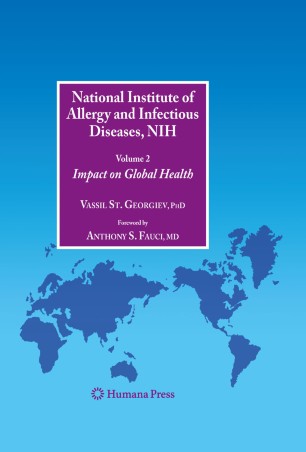 Table of contents
About this book
Introduction
I N F E C T I O U S D I S E A S E®
Vassil St. Georgiev, Series Editor
National Institute of Allergy and Infectious Diseases, NIH
Volume 2: Impact on Global Health
Vassil St. Georgiev, PhD with Foreword by Antony S. Fauci, MD
National Institute of Allergy and Infectious Diseases, National Institutes of Health, DHHS, Bethesda, MD
For more than 50 years, the mission of the national Institute of Allergy and Infectious Disease (NIAID)has been to conduct and support basic and applied research to better understand, treat, and prevent infectious, immunologic, and allergic diseases with the ultimate goal of improving the health of individuals in the United States and around the world. As part of its mission to foster biomedical research and to reduce the burden of human disease, NIAID is committed to encouraging the accelerated translation of biomedical discoveries into effective clinical care and public throughout the world. In pursuit of this goal and its disease-specific scientific objectives, NIAID seeks to broaden its global impact by increasing scientific opportunities and collaborations involving scientists and institutions outside the United States. The ever increasing efforts of NIAID to combat the worldwide HIV/AIDS, malaria, as well as the increasing numbers of humans infected by highly virulent strains of avian influenza in Asia and elsewhere. NIAID is at the forefront of efforts to address these and other international health challenges by supporting programs in approximately 90 countries and to have dramatically increased spending on international activities in the past decade in a clear strategy to not only devote more resources within the United States to the study of diseases with global health importance, but also to develop the capacity for advanced research within resource-poor nations.
Extensive and in-depth, National Institute of Allergy and Infectious Diseases, NIH: Volume 2, Impact on Global Health is a valuable and comprehensive guide providing up-to-date accounts on the state of specific research endeavors in the areas of microbiology and infectious diseases (other than AIDS), HIV/AIDS, allergy, immunology, and transplantation, covering the research portfolios of the NIAID's extramural divisions of Microbiology and Infectious Diseases, AIDS, and Allergy, Immunology and Transplantation. This volume comprises documents of the United States Government and other research information that is in the public domain. Nevertheless, this volume is not an official U.S. Government publication.
Features
Includes detailed up-to-date overviews of specific research endeavors in microbiology and infectious diseases (other than HIV/AID), HIV/AIDS, allergy, immunology, and transplantation.
Contents
Foreword: Anthony S. Fauci, MD. Part I. Microbiology and Infectious Diseases. Primary Research Areas in Microbiology and Infectious Diseases (non-HIV/AIDS). NIAID International Research Programs: Global Impact: Africa, Asia, Partnerships. Bacterial Diseases. Emerging and Re-Emerging Infectious Diseases. Fungal Diseases. Tropical Medicine and Parasitic Diseases. Virology. Sexually-Transmitted Diseases. Enteric Diseases. Respiratory Diaeases. Streptococcus pneumoniae (Pneumococcal) Disease. Severe Acute Respiratory Syndrome (SARS). Influenza. Tuberculosis. Viral Hepatitis. West Nile Virus. Herpesviruses. Paramyxoviridae: Nipah Virus and Hendra Virus. Arthropod-Borne Viral Encephalitis: Flaviviruses, Aphaviruses, Bunyaviruses. Malaria. Rickettsia: The Typhus Group. Tick-Borne Bacterial, Rickettsial, Spirochetal, and Protozoal Diseases: Lyme Disease,Tick-Borne Rickettsial Diseases, Tularemia, Souther Tick-Associated Rash Illness, Babesiosis, Tick-Borne Relapsing Fever. Defense against Biological Weapons (Biodefense): History of Biological Warfare, Anthrax, Variola major Virus (Smallpox), Yersinia pestis (Plague), Brucellosis, Coxiella burnetii-Q fever, Glanders, Melioidosis, Viral Hemorrhagic Fever: Filoviruses, Viral Hemorrhagic Fever: Bunyaviridae, Viral Hemorrhagic Fever: Arenaviruses, Viral Hemorrhagic Fever: Flaviviruses, Protein Toxin Weapons, Arthropod-Borne Viral Fever and Arthropathy, NIAID Research Agenda in Biodefense Antimicrobial Resistance and Healthcare-Acquired Infections. Genomic and Post-Genomic Research. Drug Development Research. Part II. Human Immunodeficiency Virus and Acquired Immunodeficiency Syndrome. Introduction: Human Immunodeficiency Virus (HIV). NIAID: Programs in HIV Prevention: Clinical Trials. NIAID: Programs in HIV/AIDS Therapeutics: Drug Discovery, Preclinical Drug Development, Clinical Research, Resources for Researchers, NIAID Funding Initiatives, Clinical Trials, Other NIH-Funded Clinical Trials Networks, Clinical Trials Guidelines. NIAID: Programs in HIV Vaccines. NIAID: International Involvement in HIV/AIDS Research: Clinical Trial Network Studies- ACTG, HVTN, IMPAACT, INSIGHT, MTN, Non-Clinical Trial Network Studies, Centers for AIDS Research (CFARs), Comprehensive International Program of Research on AIDS (CIPRA), International Databases to Evaluate AIDS (IeDEA), Male Circumcision, NIAID Collaborative International Research, U.S. Military HIV Research Program (USMHRP) Trials funded by NIAID, Other HIV/AIDS Vaccine Related Work, International AIDS Vaccine Initiative (IAVI), Partnership for AIDS Vaccine Evaluation (PAVE), Center for HIV/AIDS Vaccine Immunology (CHAVI), Global HIV Vaccine Enterprise (GHVE), President's Emergency Plan for AIDS Research (PEPFAR). HIV/AIDS Epidemiology. HIV Therapeutics - Antiretroviral Drugs and Immune-Based Therapies: HIV Reverse Transcriptase, HIV Reverse Transcriptase Inhibitors: Nucleoside Analogues, Nucleotide Analogues: Tenofovir DF, Reverse Transcriptase Inhibitors: Non-Nucleoside Analogues, HIV Protease, HIV Protease Inhibitors, Fixed-Dose Combinations, Viral Entry/Fusion Inhibitors, Integrase Inhibitors, Maturation Inhibitors, HAART: Triple Highly Active Antiretroviral Combinations. Vaccine Development: Vaccine Clinical Trials, Vaccine Discovery and Development/Clinical Research, The Failure of the STEP Trial. Opportunistic Infections: Fungal Infections, Viral Infections, Parasitic Infections, Recent NIAID-Supported Clinical Studies in Opportunistic Infections. Part III. Immunoogy Research. Introduction. Mammalian Host defenses:Innate and Adaptivr Immunity. Immune Adjuvants. Immune Tollerance. Autoimmune Diseases. Mucosal Immune System. The Role of B-Cells. Transplantation. Asthma and Allergic Diseases.
Keywords
AIDS
HIV
Malaria
allergy
asthma
autoimmune disease
bacteria
diseases
infection
infections
infectious
infectious disease
infectious diseases
microbiology
vaccine
Bibliographic information