Exporting
The Definitive Guide to Selling Abroad Profitably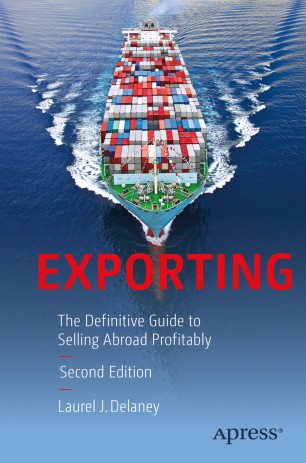 Table of contents
About this book
Introduction
"Laurel Delaney writes in a tremendous spirit of service to entrepreneurial and small business leaders navigating the opportunities of globalization. Whether leading a fresh startup, a small business, or an entrepreneurial growth company seeking greatness, the question of whether—and how—to go global must be addressed. Delaney shows yet again her passionate dedication to serving her readers with deeply practical guidance."—Jim Collins, author of Good to Great and co-author of Beyond Entrepreneurship
Gain the knowledge you need to market, sell, and fulfill orders internationally, taking full advantage of the Internet and the opportunities it creates. This book is the bible for entrepreneurs and small business owners taking their US businesses to the next level of growth through exports. Exporting empowers readers with the can-do confidence to tackle the challenges and opportunities of exporting, leading to greater revenues, stability, and profitability for your business. With 70 percent of global buying power lying outside US borders, exporting is not just an option for ambitious entrepreneurs—it's an absolute must for building and sustaining a successful future.
Typically, exporting first appears on the radar of small businesses as unsolicited inquiries from foreign customers on the web via your email, website, blog, or Facebook page. People outside your country want your product, and they want it now. The problem is that most small business owners do not know how to service these inquiries. What's the best way to ship goods? Do I need a license? Should I sell through wholesalers in specific countries or directly to consumers? How will I get paid?
Reflecting the rapid rate of change in national and global trade regulations and economic conditions, this second edition contains extensive updates and enhancements of the first edition's data and citations; actual and prospective multilateral trade agreements, especially the TPP and TTIP; CFR, EAR, and BIS rules; interviews with trade and sector specialists; economic trends and shocks affecting export opportunities and risks in various regions and sectors; and the annotated selection of recommended exporting resource sites.
Exporting: The Definitive Guide to Selling Abroad Profitably:
Lays out simple steps and tips to conduct market research, find customers, open new markets, create an export business plan, get paid, and ship goods and services efficiently and profitably

Shows you how to use the Internet and social media to mediate the exporting process and expand your international presence

Details how the US government helps exporters and how to avoid foreign regulatory pitfalls

Keywords
ad valorem duties
affiliate marketing
binational trade associations
break-bulk shipments
BRICS
Export-Import Bank
EAR
carton markings
Commerce Control List
Common Sense Advisory
foreign trade zones
cost, insurance, and freight
Gold Key Matching Service
US Export Assistance Centers
DHL
Magento
emerging markets
Eriksen Translations
bribes and corruption
exchange rates
Bibliographic information