© 2000
Global Financial Crises
Lessons From Recent Events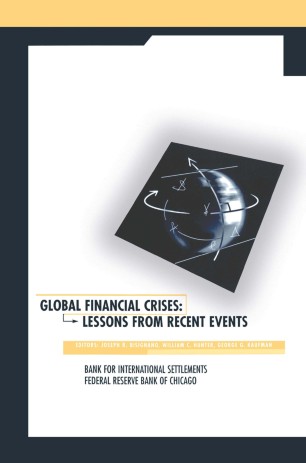 Table of contents
About this book
Introduction
Since 1990, major banking and current crises have occurred in many countries throughout the world - including Mexico and Latin America in 1994-95, East Asia in 1997-98, and Russia and Brazil in 1998 - with large costs both to the individual countries experiencing the crises and to other nations. As a result, considerable effort has been expended by economists and policymakers to identify the causes of these crises and to design programs with the aim both of preventing similar crises from occurring in the future, and of minimizing the costs when these do occur. These studies have cut across national boundaries, being undertaken by individual researchers and organizations in particular countries, as well as by international institutions.
This book collects the papers and discussants' comments presented at a conference co-sponsored by the Federal Reserve Bank of Chicago and the Bank for International Settlements in Basel, Switzerland, and held in Chicago, in early October 1999. The purpose of the conference was to identify and discuss the lessons to be learned from these crises. Topics discussed included reviews of the crises in the individual countries and regions; analyses of the policy responses, both by the affected countries and by official international institutions; what has been learned from these crises; deposit insurance reform; the design of bank capital regulation; the role of bank supervision and regulation; and the future of official international financial institutions, such as the International Monetary Fund and the World Bank. The conference participants included a broad range of academic, industry, and regulatory experts from more than twenty-five countries.
Because of the timeliness of the conference and the wide-ranging expertise of the participants, the papers in this book should be of significant interest both to students of financial crises and to domestic and international policymakers.
Keywords
Asia
Banking
Brazil
East Asia
Russia
Bibliographic information