Proteases in Health and Disease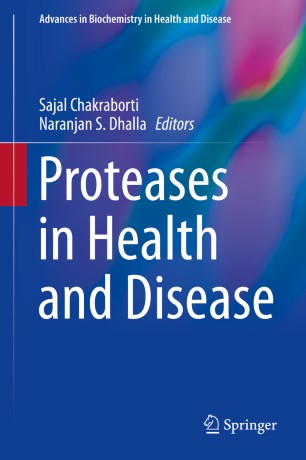 Table of contents
About this book
Introduction
Proteases form one of the largest and most diverse families of enzymes known. Once considered primarily as "enzymes of digestion," it is now clear that proteases are involved in every aspect of cellular function. Members of the diverse families of proteases act to promote cellular proteolysis found in nature, and their deregulation may result in different pathophysiological conditions, such as tumor progression, vascular remodeling, atherosclerotic plaque progression, ulcer, rheumatoid arthritis, and Alzheimer's disease. Many micro-organisms require proteases for replication or use proteases as virulence factors, which have facilitated the development of protease-targeted therapies for a variety of parasitic diseases.
Proteases in Health and Disease represents a comprehensive overview of the fascinating field of proteases by various renowned experts, and focuses on the recently elucidated functions of complex proteolytic systems in physiology and pathophysiology. Part A, Molecular and Biochemical Aspects of Proteases, illustrates some of the major proteases, such as calpains, matrix metalloproteases, fibrinolytic serine proteases, and aspartic proteases, which play a significant role in a variety of pathologies and may be a target for therapy either by their up regulation or down regulation. Part B, Involvement of Proteases in Diseases Processes, deals with the functional roles of the individual proteases in the progression of diseases such as cardiovascular and inflammatory lung disease, malaria, cholera, autism spectrum disorder, hepatitis, and ischemia-reperfusion injury induced cardiac diseases. With this multi-disciplinary scope, the book bridges the gap between fundamental research and biomedical and pharmaceutical applications, making this a thought-provoking reading for basic and applied scientists engaged in biomedical research.
About the Editors:
Dr. Sajal Chakraborti is a Senior Professor of Biochemistry at the University of Kalyani, West Bengal, India. His research covers the role of proteases in regulating pulmonary vascular tone under oxidant- and calcium-signaling phenomena. He has been engaged in teaching and research in biochemistry for the past 35 years.
Dr. Naranjan Dhalla is a Distinguished Professor at the University of Manitoba, Winnipeg, Canada. His expertise includes the subcellular and molecular basis of heart function in health and disease. He has been engaged in multidisciplinary research and education for promoting the scientific basis of cardiology, as well as training of professional manpower for combating heart disease for over 40 years.
Keywords
Biochemistry
Proteases
Signal transduction
Bibliographic information