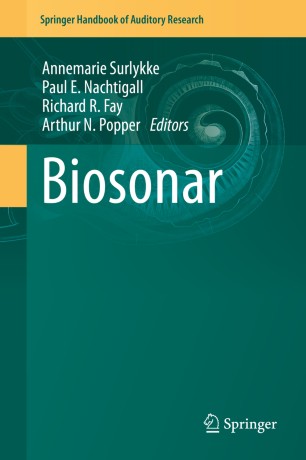 Table of contents
About this book
Introduction
Bats and odondoctes have evolved the ability to use echolocation to find objects in their environments. And, despite there being substantial differences in their environments, there are substantial similarities, as well as any number of fascinating differences, in how members of these two groups produce, use, and process biosonar signals. Chapters are written by experts from on both animal groups, resulting in collaborations that examine not only data on bats and odontocetes, but also compare and contrast mechanism and what is known. In effect, the chapters provide a unique insight that will help push forward our understanding of biosonar in both groups.
• Biosonar of bats and toothed whales: An overview – Annemarie Surlykke and Paul E. Nachtigall
• Sonar signals of bats and toothed whales – Brock (M. B.) Fenton, Frants Havmand Jensen, Elisabeth K. V. Kalko, and Peter L. Tyack
• Production of biosonar signals: Structure and form – Whitlow W. L. Au and Roderick A. Suthers
• Sound intensities of biosonar signals from bats and toothed whales – Magnus Wahlberg and Annemarie Surlykke
• Hearing during echolocation in whales and bats – Paul E. Nachtigall and Gerd Schuller
• Localization and classification of targets by echolocating bats and dolphins – James A. Simmons, Dorian Houser, and Laura Kloepper
• On-Animal methods for studying echolocation in free-ranging animals – Mark Johnson
• Analysis of natural scenes by echolocation in bats and dolphins – Cynthia F. Moss, Chen Chiu, and Patrick W. Moore
• Echolocation in Air and Water –Peter Teglberg Madsen and Annemarie Surlykke
About the Editors:
Annemarie Surlykke is Professor in the Department of Biology at University of Southern Denmark and head of the Sound and Behavior Group. Paul Nachtigall is Research Professor and Director of the Marine Mammal Research Program in the Hawaii Institute of Marine Biology at the University of Hawaii. Arthur N. Popper is Professor in the Department of Biology and Co-Director of the Center for Comparative and Evolutionary Biology of Hearing at the University of Maryland, College Park. Richard R. Fay is Distinguished Research Professor of Psychology at Loyola University Chicago.
About the Series:
The Springer Handbook of Auditory Research presents a series of synthetic reviews of fundamental topics dealing with auditory systems. Each volume is independent and authoritative; taken as a set, this series is the definitive resource in the field.
Keywords
acoustic scenes
bats
odontocetes
Bibliographic information
DOI

https://doi.org/10.1007/978-1-4614-9146-0

Copyright Information

Springer-Verlag New York 2014

Publisher Name

Springer, New York, NY

eBook Packages

Biomedical and Life Sciences Biomedical and Life Sciences (R0)

Print ISBN

978-1-4614-9145-3

Online ISBN

978-1-4614-9146-0

Series Print ISSN

0947-2657

Series Online ISSN

2197-1897