Animal Models of Speech and Language Disorders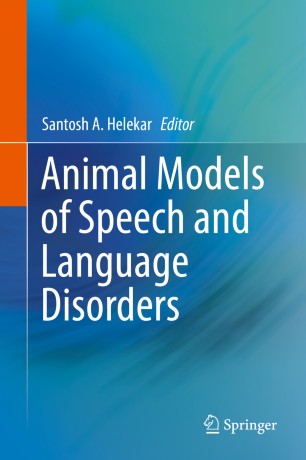 Table of contents
About this book
Introduction
Animal Models of Speech and Language Disorders is arguably the first book that integrates several decades of research on the neuroscience and genetics of speech and language with behavioral, systems, cellular and molecular neurobiological studies on animal communication to create a synthesis of ideas with potential translational value in neurology, neurolinguistics and speech science.
Speech and language dysfunctions plague a large segment of today's young and old alike because, besides being primary afflictions, they are also an integral part of the complex symptomatology of most of the common neurological and neurodevelopmental disorders, such as stroke, dementia, intellectual disability and autism. It is therefore essential that biomedical research be focused on understanding their neurobiological and genetic bases in order to have the chance of developing rational approaches to treating them. By weaving together findings from diverse disciplines in the comparative biology of vocal communication in songbirds, bats, New World monkeys and the great apes, with the applied and translational perspective in mind, this book attempts to create awareness among researchers and students about the strengths of the comparative and evolutionary approach to the scientific understanding of speech and language, and to addressing intractable clinical problems affecting higher brain functions.
Animal Models of Speech and Language Disorders will be highly instructive to researchers, clinicians, advanced speech pathology and neuroscience students, and all those who are interested in the current state of knowledge in the basic and applied aspects of speech and language.
Bibliographic information
DOI

https://doi.org/10.1007/978-1-4614-8400-4

Copyright Information

Springer Science+Business Media New York 2013

Publisher Name

Springer, New York, NY

eBook Packages

Biomedical and Life Sciences

Print ISBN

978-1-4614-8399-1

Online ISBN

978-1-4614-8400-4