The Strength of Self-Acceptance
Theory, Practice and Research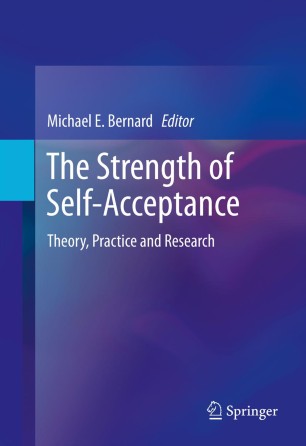 About this book
Introduction
The rationale for this book is the exploration of how different theories (e.g., humanistic, cognitive-behavioral), theologies (e.g., Christianity, Buddhism) and therapies (e.g., REBT, CBT, ACT) view self-acceptance as a catalyst for the alleviation of emotional misery as well as an energizer supporting growth towards happiness and fulfillment.
An additional rationale for this book is the desire to see self-acceptance recognized in the field of positive psychology as a fundamental character strength contributing to flourishing.
Divided between theory and practice, The Strength of Self-Acceptance assembles current research and seminal theory on self-acceptance both as scientific construct and as character strength in one lucid, well-documented reference.
An expert panel of international scholars and practitioners examines links between self-acceptance and related concepts such as self-esteem, self-awareness, acceptance of others, and happiness.
Specific areas for practice include parenting, education, relationships, women's and older people's issues, and chronic illness, as well as guidelines for developing self-acceptance in therapy with all clients, and for measuring client progress. Throughout, self-acceptance is revealed not merely as a desirable state, but one essential to positive development and fulfillment. Included in the coverage:
What Maslow, Rogers and May have to say about self-acceptance
Albert Ellis and Steven Hayes present their views
Buddhist radical acceptance and the willingness to experience and accept whatever is taking place in the moment
How Christian scripture through the lessons of Jesus Christ teaches that sin does not reduce human worth
The human biological propensity for self-depreciation and the importance of teaching unconditional self-acceptance
Ways to measure self-acceptance.
Classroom and counselling strategies for teaching self-acceptance to young people.
Self-acceptance as an integral component of comprehensive mental health programsThe importance of social interest and responsibility in the encouragement of self-acceptance
Compassionate self-acceptance and the aging process
The Strength of Self-Acceptance offers a profound understanding of the nuances of self-acceptance to scholars in theology, psychology, counseling, and psychotherapy. In addition, the book should have an immediate impact on the work of counselors, clinicians and therapists.
Keywords
Measuring and characterizing unconditional self-acceptance
Self-Acceptance and Happiness
Self-Acceptance and Psychological Flexibility
Self-Acceptance and Self-Esteem
Self-Acceptance and aging
Self-Acceptance and raising children
Self-Acceptance and self-compassion
Self-Acceptance and successful relationships
Self-Acceptance and the education of young people
Self-Acceptance and women
Self-Acceptance in Buddhism
Self-Acceptance in Christian Theology
Self-Acceptance in Humanistic Psychology and Psychotherapy
Bibliographic information
DOI

https://doi.org/10.1007/978-1-4614-6806-6

Copyright Information

Springer Science+Business Media, LLC 2013

Publisher Name

Springer, New York, NY

eBook Packages

Behavioral Science

Print ISBN

978-1-4614-6805-9

Online ISBN

978-1-4614-6806-6