Vulnerable Children
Global Challenges in Education, Health, Well-Being, and Child Rights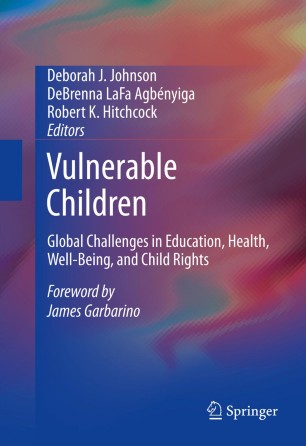 Table of contents
About this book
Introduction
They are laborers, soldiers, refugees, and orphans. In areas of the world torn by poverty, disease, and war, millions of children are invisible victims, deprived of home, family, and basic human rights. Their chances for a stable adult life are extremely slim.
The powerful interdisciplinary volume Vulnerable Children brings a global child-rights perspective to the lives of indigenous, refugee, and minority children in and from crisis-prone regions. Focusing on self-determination, education, security, health, and related issues, an international panel of scholars examines the structural and political sources of children's vulnerabilities and their effects on development. The book analyzes intervention programs currently in place and identifies challenges that must be met at both the community and larger policy levels. These chapters also go a long way to explain the often-blurred line between vulnerability and resilience.
Key areas of coverage include:
Dilemmas of rights-based approaches to child well-being in an African cultural context.
Poverty and minority children's education in the United States: The case study of a Sudanese refugee family.
The heterogeneity of young children's experiences in Kenya and Brazil.
A world tour of interventions for children of a parent with a psychiatric illness.
An exploration of fosterage of Owambo orphans in Namibia.
UNICEF in Colombia: Defending and nurturing childhood in media, public, and policy discourses.
Vulnerable Children is a must-have resource for researchers, graduate students, clinicians and professionals across a range of fields, including child and school psychology, social work, maternal and child health, developmental psychology, anthropology, sociology, social policy, and public health.
Keywords
Aboriginal education
African cultures and policies
Boodja Marr Karl
Child and adolescent development
Child health
Child labor in farm and domestic work
Child mental health issues
Child rights
Child well-being
Children in Marine Fishing in Ghana
Children of war
Cultural empowerment
Foster care and child rights
Fosterage of Owambo orphans in Namibia, Southern Africa
Human rights
Immigrant children
Indigenous education
International child rights
Invisible children
Media, public, and policy discourses in children's rights
Nyae Nyae Village Schools Project
Orphans and fosterage
Parent-child relations
Parental socialization
Poverty and minority children's education
Psychiatric disorders and interventions
Refugee youth
Resilience
Schooling and child rights
Self-determination in education
Self-perception in families and schools
Transnational humanitarian organizations in Malawi
Trokosi child
UNICEF's Juanita Communication Initiative in Colombia
"Lost Boys"
Bibliographic information
DOI

https://doi.org/10.1007/978-1-4614-6780-9

Copyright Information

Springer Science+Business Media New York 2013

Publisher Name

Springer, New York, NY

eBook Packages

Behavioral Science

Print ISBN

978-1-4614-6779-3

Online ISBN

978-1-4614-6780-9