Good Cascade Impactor Practices, AIM and EDA for Orally Inhaled Products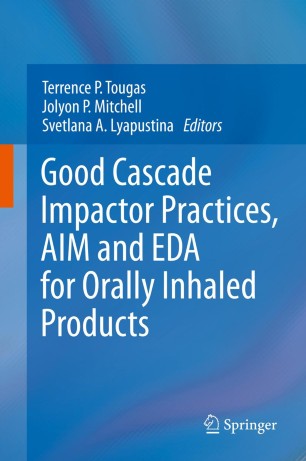 About this book
Introduction
Aerodynamic particle size characteristics of orally inhaled products (OIPs) are critical to their performance. Testing based on cascade impaction has been the primary tool used to characterize this critical quality attribute and is a regulatory expectation for Quality Control purposes. In recent years, there have been substantial efforts directed at improving aerodynamic particle size determinations.
Good Cascade Impactor Practices, AIM and EDA for Orally Inhaled Products brings together for the first time a review of best practices for performing cascade impactor testing with a thorough discussion of the recently introduced concepts of abbreviated impactor measurements (AIM) and efficient data analysis (EDA).
Topics covered include:
· Review of pharmacopeial methods (US and European) for assessment of aerodynamic particle size distribution (APSD) of OIPs.
· Physical processes that underlie aerosol formation from OIPs and the mechanisms that affect the APSD.
· Good cascade impactor practice (GCIP) related to either full resolution or abbreviated impactor measurements.
· Introduction of the AIM and EDA concepts.
· Selection of the type of testing through the development lifecycle of an OIP.
· Theoretical basis for EDA.
· Performance evaluation of EDA as a quality control element.
· Case studies related to the application of EDA.
· Experimental studies validating the AIM concept conducted by European Pharmaceutical Aerosol Group (EPAG) and the Cascade Impaction Working Group of the International Pharmaceutical Aerosol Consortium on Regulation and Science (IPAC-RS).
· Regulatory and compendial pathways to adoption of AIM and EDA.
· Exploration and extension of AIM as a potential approach to measures that could be more predictive of particle deposition in the human respiratory tract.
This comprehensive volume was written by a group of prominent international experts in aerosol testing led by members of the Cascade Impaction Working Group of IPAC-RS. IPAC-RS is an international association of pharmaceutical companies committed to advancing consensus-based, scientifically driven standards and regulations for orally inhaled and nasal drug products.
Keywords
AIM
Inhale
Lyapustina
Oral
Product
Bibliographic information
DOI

https://doi.org/10.1007/978-1-4614-6296-5

Copyright Information

Springer Science+Business Media New York 2013

Publisher Name

Springer, Boston, MA

eBook Packages

Biomedical and Life Sciences

Print ISBN

978-1-4614-6295-8

Online ISBN

978-1-4614-6296-5