© 2013
SpaceX
Making Commercial Spaceflight a Reality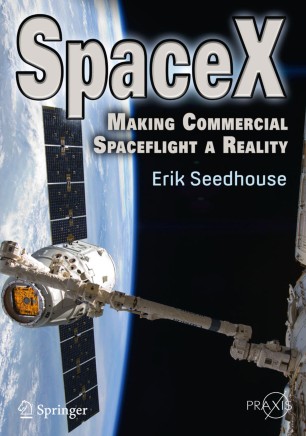 About this book
Introduction
2012 - the year when the first ever privately-developed spacecraft visited the International Space Station.
This is the story of how one company is transforming commercial space flight. It describes the extraordinary feats of engineering and human achievement that have resulted in the world's first fully reusable launch vehicles and the prospect of human travel to Mars.
SpaceX - The First Ten Years:
- explores the philosophy behind the success of SpaceX;
- explains the practical management that enables SpaceX to keep it simple, reliable, and affordable;
- details the developmentof the Falcon 1, Falcon 9 and Falcon Heavy rockets and the technology of the Merlin engines;
- describes the collaboration with NASA;
- introduces current SpaceX projects, including the Grasshopper reusable launch vehicle and the Stratolaunch System.
SpaceX - The First Ten Years is a portrait of one of the most spectacular spaceflight triumphs of the 21st century, one that is laying the foundation for humanity to become a spacefaring civilization.
Keywords
Commercial Orbital Transportation Services
Commercial Spaceflight
Commerical Crew Development Program
Elon Musk
Human Space Exploration
International Space Station
Launch Industry
Space Launch Vehicles
SpaceX Initiation
US Launch Vehicles
Bibliographic information