© 2013
Broadband Networks, Smart Grids and Climate Change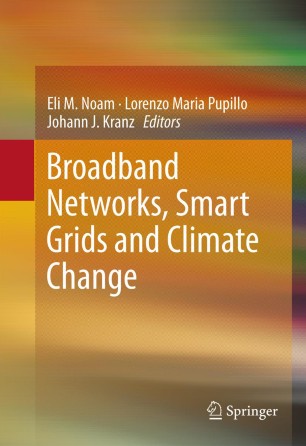 Table of contents
About this book
Introduction
In smart grids the formerly separated worlds of energy and telecommunication converge to an interactive and automated energy supply system. Driven by social, legal, and economic pressures, energy systems around the globe are updated with information and communication technology. These investments aim at enhancing energy efficiency, securing affordable energy supply, and mitigate climate change. In Broadband Networks, Smart Grids and Climate Change, renowned scholars and managers from the fields of energy and telecommunication address key questions related to technological, strategic, and regulatory issues revealing consequences and opportunities for businesses evolving with smart grids.
"IT has transformed many industries—now it is energy's turn! This important book will guide readers through 'smart grids,' the interconnection of broadband and energy systems and its implications: more efficient, 'greener' and more responsive to consumers/producers."
Leonard Waverman, Dean of the Haskayne School of Business at the University of Calgary and Fellow of the London Business School
"The energy supply system will change dramatically in the years to come, and information and communication technologies will play a pivotal role in this transition. If you wish to understand in-depth how policy, regulation and businesses can leverage and harness this transition for sustainable economic growth this book offers an excellent starting point."
Dr. Ingo Vogelsang, Professor of Economics, Boston University
"A persuasive linking of three major policy inquiries through the advanced technologies for each. Celebration of technology is fine, but perspective about it is still better. Makes for a timely course—all in one collection."
Douglas N. Jones, Professor (emeritus) of Regulatory Economics, The John Glenn School of Public Affairs and Director (emeritus), The National Regulatory Research Institute, The Ohio State University.
"To developed countries smart grids offer an enormous opportunity to decarbonize their energy supply systems. But also for emerging countries the synergies between information and communication technologies and the energy system establish opportunities for economic growth without wasting resources and environmental degradation. For both initial situations this book offers valuable insights for scholars, policy makers and practitioners."
Dr. Joachim von Braun, Director of the Center for Development Research (ZEF Bonn) and Professor of Economics and Technological Change, University of Bonn
Keywords
Broadband Networks
Climate Change
Electric Utilities
Energy Regulation
Smart Grid
Smart Metering
Bibliographic information