© 2013
Working Knowledge
STEM Essentials for the 21st Century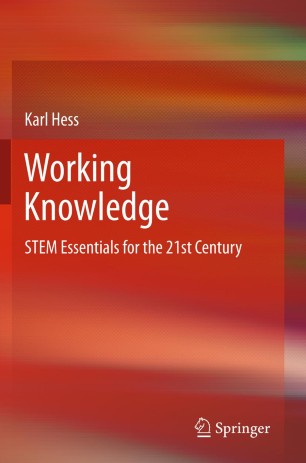 About this book
Introduction
Working Knowledge: STEM Essentials for the 21st Century is designed to inspire a wide range of readers from high school and undergraduate students with an interest in Science, Technology, Engineering, and Mathematics (STEM) to STEM teachers and those who wish to become teachers. Written by renowned scientist and teacher Dr. Karl Hess of the University of Illinois at Urbana, a member of both the National Academy of Sciences and the National Academy of Engineering, the book presents a critical collection of timeless STEM concepts and connects them with contemporary research advances in addition to the needs of our daily lives. With an engaging and accessible style not requiring a formal background in STEM, Dr. Hess takes the reader on a journey from Euclidean Geometry and Cartesian Coordinates up through 21st Century scientific topics like the global positioning system, nanotechnology, and super-efficient alternative energy systems.
Working Knowledge: STEM Essentials for the 21st Century
at once serves as an almanac on the fascinating physical, chemical, quantitative features of the natural world and built environment, as well as a need-to-know list of topics for students, teachers, and parents interested in STEM education.
Keywords
Euclidian Geometry
Global Positioning System
Memory chips
Nanostructures
Nuclear Energy
STEM Education
Science, Technology, Engineering, and Mathematics
Semiconductor
Solar Energy
Theory of relativity
high school
Bibliographic information