© 2012
Environmental Adaptations and Stress Tolerance of Plants in the Era of Climate Change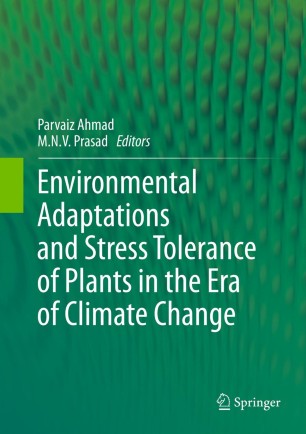 Table of contents
About this book
Introduction
Climate change is a complex phenomenon with a wide range of impacts on the environment. Biotic and abiotic stress are a result of climate change. Abiotic stress is caused by primary and secondary stresses which are an impediment to plant productivity. Prolonged exposure to these stresses results in altered metabolism and damage to biomolecules. Plants evolve defense mechanisms to withstand these stresses, e.g. synthesis of osmolytes, osmoprotectants, and antioxidants. Stress responsive genes and gene products including expressed proteins are implicated in conferring tolerance to the plant. This volume will provide the reader with a wide spectrum of information, including vital references. It also provides information as to how phytoconstituents, hormones and plant associated microbes help the plants to tolerate the stress. This volume also highlights the use of plant resources for ameliorating soil contaminants such as heavy metals.
Dr. Parvaiz is Assistant professor in Botany at A.S. College, Srinagar, Jammu and Kashmir, India. He has completed his post-graduation in Botany in 2000 from Jamia Hamdard New Delhi India. After his Ph.D from the Indian Institute of Technology (IIT) Delhi, India in 2007 he joined the International Centre for Genetic Engineering and Biotechnology, New Delhi. He has published more than 20 research papers in peer reviewed journals and 4 book chapters. He has also edited a volume which is in press with Studium Press Pvt. India Ltd., New Delhi, India. Dr. Parvaiz is actively engaged in studying the molecular and physio-biochemical responses of different plants (mulberry, pea, Indian mustard) under environmental stress.
Prof. M.N.V. Prasad is a Professor in the Department of Plant Sciences at the University of Hyderabad, India. He received B.Sc. (1973) and M.Sc. (1975) degrees from Andhra University, India, and the Ph.D. degree (1979) in botany from the University of Lucknow, India. Prasad had published 216 articles in peer reviewed journals and 82 book chapters and conference proceedings in the broad area of environmental botany and heavy metal stress in plants. He is the author, co-author, editor, or co-editor for eight books. He is the recipient of Pitamber Pant national Environment Fellowship of 2007 awarded by the Ministry of Environment and Forests, Government of India.
Keywords
Abiotic Stress
Climate Change
Plant Science
Bibliographic information