© 2012
Exoplanets
Finding, Exploring, and Understanding Alien Worlds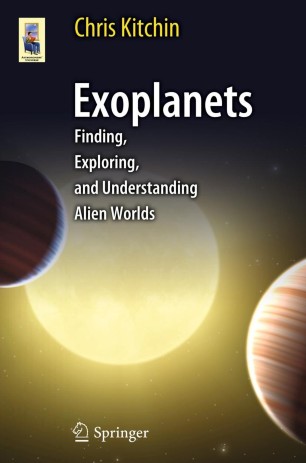 About this book
Introduction
Since 1992 there has been an explosion in the discovery of planets orbiting stars other than the Sun. There are now around 600 alien planets that we know about and that number is likely to break through the 1,000 'barrier' within a couple of years. The recent launch of the Kepler space telescope specifically to look for new worlds opens the prospect of hundreds, maybe thousands, of further exoplanets being found. Many of these planets orbits stars that are not too different from the Sun, but they are so close in to their stars that their surfaces could be flooded with seas of molten lead – or even molten iron. Others orbit so far from their stars that they might as well be alone in interstellar space. A planet closely similar to the Earth has yet to be detected, but that (to us) epoch-making discovery is just a matter of time.
Could these alien worlds could provide alternative homes for humankind, new supplies of mineral resources and might they might already be homes to alien life?
Exoplanets: Finding, Exploring, and Understanding Alien Worlds takes a look at these questions - examining what such planets are like, where they are, how we find them and whether we might ever be able to visit them. It is written for the non-specialist but also provides a comprehensive, accurate and balanced summary useful to researchers in the subject. Above all this book explores the excitement of how a new branch of science is born, develops and in less than two decades starts to become a mature part of our knowledge of the universe.
Keywords
Astrometry new planets
Discovering new planets
Earthlike planet
Exoplanetary systems
Extrasolar planets
Future human planet
Gravitational microlensing
New exoplanets
Planetary transits
Pulsar timing
Terraforming outside Solar System
Terrestrial-type planet
Transit method discovery
Bibliographic information
Reviews
From the reviews:
"The book opens with a retrospective of important events, discoveries, claims, and speculations from prehistory onward, followed by discovery methods and speculation about future discovery methodology. … Kitchin's lucid prose and clear diagrams provide a balanced, comprehensive summary of this ever-changing field. Summing Up: Highly recommended. Lower-division undergraduates and general readers." (M.-K. Hemenway, Choice, Vol. 49 (10), June, 2012)
"The bulk of this is given over to a review of the detection techniques employed by astronomers, with an estimate of their effectiveness. … Kitchin writes clearly and makes the information accessible to non-experts. … this book is ideal background for low-level undergraduate courses or motivated lay persons." (Don Pollacco, The Observatory, Vol. 132 (1229), August, 2012)