© 2015
Ethical Engineering for International Development and Environmental Sustainability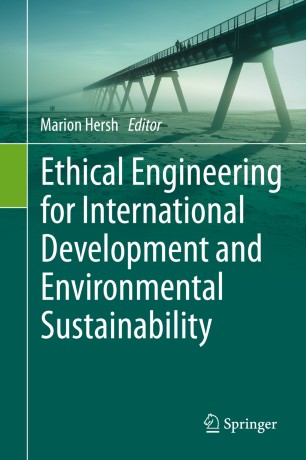 Table of contents
About this book
Introduction
Ensuring that their work has a positive influence on society is a responsibility and a privilege for engineers, but also a considerable challenge. This book addresses the ways in which engineers meet this challenge, working from the assumption that for a project to be truly ethical both the undertaking itself and its implementation must be ethically sound.
The contributors discuss varied topics from an international and interdisciplinary perspective, including:
· robot ethics;
· outer space;
· international development;
· internet privacy and security;
· green branding;
· arms conversion;
· green employment; and
· deliberate misinformation about climate change
Important questions are answered, such as:
· what is meant by engineering ethics and its practical implications;
· how decisions made by engineers in their working lives make an impact at the global as well as the local level; and
· what ethics-related questions should be asked before making such decisions.
Engineering Ethics, International and Environmental Stability will be a valuable resource for practising and student engineers as well as all who are interested in professional ethics, especially as it relates to engineering. Researchers and policy makers concerned with the effects of engineering decisions on environmental sustainability and international stability will find this book to be of special interest.
Keywords
Advanced Applications of Technology
Engineering Ethics
International Stability
Professional Development
Sustainable Development
Bibliographic information
Reviews
"Hersh … has published extensively on ethics and enabling technology. As editor of this volume she has compiled writings from authors who focus on the ethics of sustainable development and international development. The book's introduction summarizes theories of engineering ethics and techniques for making ethical decisions. … Summing Up: Recommended. Upper-division undergraduates and graduate students." (M. Roberts, Choice, Vol. 53 (1), September, 2015)