© 2013
Game Analytics
Maximizing the Value of Player Data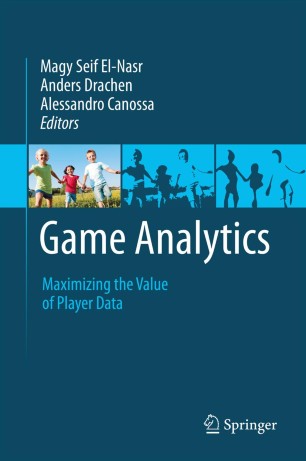 Table of contents
About this book
Introduction
Developing a successful game in today's market is a challenging endeavor. Thousands of titles are published yearly, all competing for players' time and attention. Game analytics has emerged in the past few years as one of the main resources for ensuring game quality, maximizing success, understanding player behavior and enhancing the quality of the player experience. It has led to a paradigm shift in the development and design strategies of digital games, bringing data-driven intelligence practices into the fray for informing decision making at operational, tactical and strategic levels.
Game Analytics - Maximizing the Value of Player Data is the first book on the topic of game analytics; the process of discovering and communicating patterns in data towards evaluating and driving action, improving performance and solving problems in game development and game research. Written by over 50 international experts from industry and research, it covers a comprehensive range of topics across more than 30 chapters, providing an in-depth discussion of game analytics and its practical applications.
Topics covered include monetization strategies, design of telemetry systems, analytics for iterative production, game data mining and big data in game development, spatial analytics, visualization and reporting of analysis, player behavior analysis, quantitative user testing and game user research. This state-of-the-art volume is an essential source of reference for game developers and researchers.
Key takeaways include:
Thorough introduction to game analytics; covering analytics applied to data on players, processes and performance throughout the game lifecycle.
In-depth coverage and advice on setting up analytics systems and developing good practices for integrating analytics in game-development and -management.
Contributions by leading researchers and experienced professionals from the industry, including Ubisoft, Sony, EA, Bioware, Square Enix, THQ, Volition, and PlayableGames.
Interviews with experienced industry professionals on how they use analytics to create hit games.
Keywords
Game Analytics
Game Evaluation
Game Metrics
Gameplay Analysis
Heatmap
Player Metrics
Visualization Systems
Bibliographic information
Reviews
From the reviews:
"This is an astonishingly good book. It contains 800 pages of edited papers grouped into 34 chapters, focused on the data collected and analyzed by video game vendors for the purpose of improving video game player experience. … The chapters are well written and well referenced with abundant high-quality graphics. … This book will definitely be of interest to anyone involved in game analytics. It may very well become the standard desk reference for the discipline for the foreseeable future." (J. M. Artz, Computing Reviews, July, 2013)