Interactive 3D Multimedia Content
Models for Creation, Management, Search and Presentation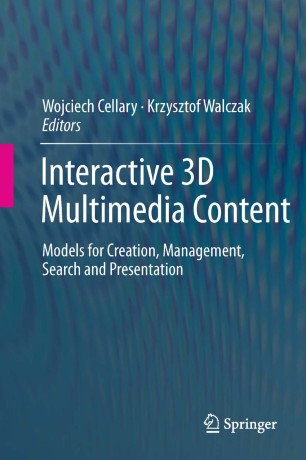 About this book
Introduction
The widespread use of interactive 3D multimedia technologies, including virtual reality (VR) and augmented reality (AR), has been recently enabled by significant progress in computing hardware performance, increasing availability of versatile input-output devices, as well as rapid growth in the available network bandwidth. Remote access to 3D/VR/AR content, enabled by development of 3D content representation standards, allows users to experience distant virtual worlds in the same way as they can experience local 3D/VR/AR applications.
The popularity of 3D computer games, 3D on-line communities, and 3D movies based on computer graphics shows that users are also well prepared for the shift from 2D to 3D user interfaces. Thus, these new interactive 3D multimedia technologies could become common also in other application domains, such as cultural heritage, education, training, tourism, and e-commerce. The application of 3D technologies can advance these domains by providing enhanced user experiences.
However, the potential of 3D/VR/AR technologies in everyday applications can be fully exploited only if accompanied by the development of efficient and easy-to-use methods of creation, management, search, and presentation of interactive 3D multimedia content, which could be used by both expert and non-expert users.
Presenting the results of research in the domain of interactive 3D multimedia content technologies, this book focuses on two broad areas: 3D content creation and management, and 3D search and presentation. In the area of 3D content creation and management, issues related to dynamic database modelling of interactive 3D content, creation of 3D/VR and AR content by both expert and non-expert users, as well as secure collaborative creation of 3D content are covered. In the field of 3D search and presentation, issues related to describing 3D content interactivity, searching content related by semantics, space and time, and 3D interactive visualization of search results are also covered in this comprehensive book.
Keywords
3D Content
Human-Computer Interfaces
Interactive Content
Modelling 3D Content
Multimedia
Bibliographic information
DOI

https://doi.org/10.1007/978-1-4471-2497-9

Copyright Information

Springer-Verlag London Limited 2012

Publisher Name

Springer, London

eBook Packages

Computer Science

Print ISBN

978-1-4471-2496-2

Online ISBN

978-1-4471-2497-9