Underemployment
Psychological, Economic, and Social Challenges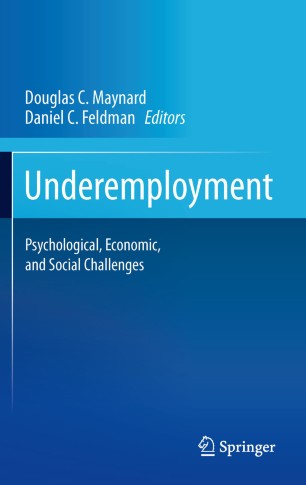 Table of contents
About this book
Introduction
Underemployment:
Psychological, Economic, and Social Challenges
Douglas C. Maynard and Daniel C. Feldman, Editors
While joblessness is a signature problem during times of economic stress, underemployment —the lack of adequate, meaningful work—affects large numbers of workers even during relative prosperity. Historically overshadowed by unemployment, the pervasive and serious social problem of underemployment warrants
greater attention from scholars in a variety of disciplines.
Recognizing underemployment as a series of related phenomena (e.g., fewer hours of work, poor pay, jobs for which workers are overqualified), Underemployment: Psychological, Economic, and Social Challenges is the first book to provide an in-depth examination of the causes, dynamics, and consequences of underemployment and how the problem might be addressed. Experts from management, economics, psychology, and sociology present their unique approaches to understanding underemployment in terms of theory development, empirical findings, and implications for policy and practice. Some of the major topics covered include:
Effects of underemployment on short-run and long-run earnings
Underemployment among youth, women, older workers, immigrants, and minorities
Effects of underemployment on mental health and physical health
Impact of underemployment on family members, friends, and communities
Measurement and tracking of underemployment over time
Effects of underemployment on work attitudes and job performance
Directions for future theoretical and empirical research on underemployment
A comprehensive look at a most timely issue, Underemployment: Psychological, Economic, and Social Challenges will inform the work of researchers, scholars, managers, and policy makers dealing with underemployment issues for years to come.
Keywords
employment
industrial and organizational psychology
job market
underemployment
Bibliographic information