In Situ Chemical Oxidation for Groundwater Remediation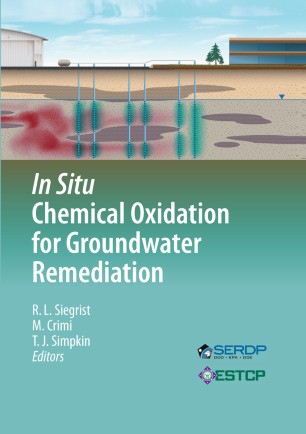 About this book
Introduction
This volume provides comprehensive and up-to-date descriptions of principles and practices of in situ chemical oxidation (ISCO) for groundwater remediation. Chapters are based on a decade of intensive research, development, and demonstrations and lessons learned from commercial field applications. The intended audience includes remediation professionals, decision makers, and practicing engineers and scientists who select, design, and operate ISCO remedial systems, and researchers seeking to improve the current state-of-the-art. This volume should serve as a useful resource to assist remediation professionals in applying and developing ISCO technologies as effectively as possible.
Topics covered include:
Groundwater contamination, site remediation, and current ISCO technology practices.
Fundamentals of chemical oxidation, the use of peroxide, permanganate, persulfate, and ozone oxidants, their reactions with contaminants of concern, and their interactions with naturally occurring subsurface materials.
Transport and fate of oxidants during use in ISCO and available mathematical models to support ISCO applications.
Combination of ISCO with other remedial technologies, including in situ bioremediation and monitored natural attenuation.
Evaluation of ISCO field applications, performance achieved, and lessons learned.
Design and implementation of ISCO, including technology screening, conceptual design, detailed design and planning, and implementation and performance monitoring. Examples of procedures, processes, and tools are provided.
Site characterization for development of conceptual site models, treatment goals, and end points for ISCO applications.
Oxidant delivery, contingency planning, and ISCO system performance monitoring.
ISCO technology costs and sustainability.
Critical gaps in knowledge and research needs to improve ISCO theory, technology development and applications.
Each chapter in this volume has been thoroughly reviewed for technical content by one or more experts in the subject area covered.
Bibliographic information
DOI

https://doi.org/10.1007/978-1-4419-7826-4

Copyright Information

Springer Science+Business Media, LLC 2011

Publisher Name

Springer, New York, NY

Print ISBN

978-1-4419-7825-7

Online ISBN

978-1-4419-7826-4

Series Print ISSN

1869-6864