The Practice of Functional Analytic Psychotherapy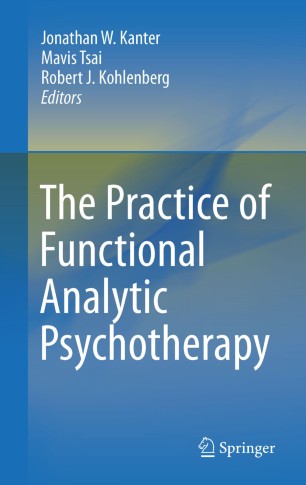 Table of contents
About this book
Introduction
Since the earliest years of its development, Functional Analytic Psychotherapy (FAP) has been hailed for its clinical innovation and transformative power with clients across the range of disorders. Building on the foundations of their earlier volumes about this versatile therapy, the editors of The Practice of Functional Analytic Psychotherapy bring together noted clinicians and researchers to explain in depth how FAP can be used in conjunction with a broad spectrum of therapeutic approaches, and with diverse client populations. The hallmarks of the method, including therapist sensitivity and responding to client behavior in the moment, courage, mindfulness, acceptance, and egalitarianism, inform a wide array of interventions and strategies, among them:
Integrating FAP with other treatments, including cognitive behavioral therapy, acceptance and commitment therapy, dialectical behavior therapy, behavioral activation, psychodynamic therapies, and feminist therapies.
Applying FAP across cultures, nationalities, and ethnicities.
Employing FAP with couples.
Increasing sensitivity to and effectiveness with sexual minority clients.
Modifying FAP for developmentally appropriate use with adolescents.
Enhancing a team approach with severely mentally ill patients in institutional settings.
Strengthening the power of interpersonal process groups.
As a new tool or an enhancement to current practice, these applications of FAP will give therapists an empowering complement to their work. The Practice of Functional Analytic Psychotherapy points to compelling directions in personal growth and change—on both sides of the therapeutic bond.
"Functional Analytic Psychotherapy is a powerful intervention that is not psychodynamic, experiential, cognitive-behavioral, or cognitive, but rather a clinical guideline for how to conduct good therapy. This volume demonstrates how the intervention can be used with different clinical populations, theoretical orientations, and modalities of treatment. Indeed, it is a transtheoretical approach that can be readily integrated into all approaches to treatment." Marvin R. Goldfried, Distinguished Professor of Psychology, Stony Brook University
""Functional Analytic Psychotherapy (FAP) adapts radical behavioral principles to dealing with interpersonal problems in therapy in a humane and sensitive fashion. This lively compilation describes the way that FAP can be integrated into a variety of different treatments and applied to a variety of patient populations. The authors are to be congratulated for the breadth and power of their contribution. The basic principles they describe should improve anyone's practice." Steve Hollon, Ph.D. Vanderbilt University
"This book goes beyond speculation and presents a theoretically sound, clinically practical, and compelling approach to techniques that are based in behaviorism yet developed to enhance treatment regardless of theoretical orientation. This book should be on the shelf of every practicing clinician, as well as on the must read lists for students and psychotherapy researchers." Christopher R. Martell, Ph.D., ABPP. Clinical Associate Professor, University of Washington.
Keywords
ACT
CBT
DBT
adolescents
behavioral activation
cognitive behavioral therapy
feminist
intervention
mindfulness
psychodynamic
transcultural
Bibliographic information
DOI

https://doi.org/10.1007/978-1-4419-5830-3

Copyright Information

Springer Science+Business Media, LLC 2010

Publisher Name

Springer, New York, NY

eBook Packages

Behavioral Science

Print ISBN

978-1-4419-5829-7

Online ISBN

978-1-4419-5830-3