The Neurophysiological Bases of Auditory Perception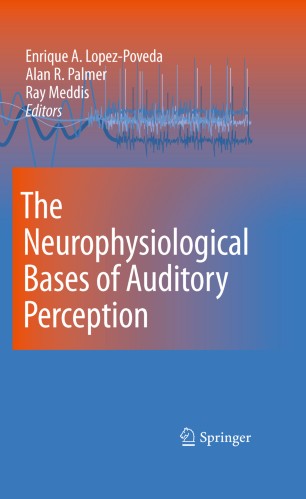 Table of contents
About these proceedings
Introduction
From its inception in 1969, The International Symposium on Hearing has been a forum of excellence for debating the neurophysiological basis of auditory perception, with computational models as tools to test and unify physiological and perceptual theories. Every paper in this symposium includes two of the following: auditory physiology, psychophysics or modeling. The topics range from cochlear physiology to auditory attention and learning. The Neurophysiological Bases of Auditory Perception has a bottom-up structure from 'simpler' physiological to more 'complex' perceptual phenomena and follows the order of presentations at the 2009 meeting. The volume describes state-of-the-art knowledge on the most current topics of auditory science and will act as a valuable resource to stimulate further research.
Enrique A. Lopez-Poveda, Ph.D. is Director of the Auditory Computation and Psychoacoustics Unit of the Neuroscience Institute of Castilla y León (University of Salamanca, Spain). His research focuses on modeling human cochlear nonlinear signal processing and understanding the role of the peripheral auditory system in normal and impaired auditory perception.
Alan R. Palmer, Ph.D. is Deputy Director of the MRC Institute of Hearing Research and holds a Special Professorship in Neuroscience at the University of Nottingham,United Kingdom. He heads a research team that uses neurophysiological, computational and neuroanatomical techniques to study the way the brain processes sound.
Ray Meddis, Ph.D. is Director of the Hearing Research Laboratory at the University of Essex,United Kingdom. His research has concentrated on the development of computer models of the physiology of the auditory periphery and how these can be incorporated into models of psychophysical phenomena such as pitch and auditory scene analysis.
Keywords
Cortex
ELIZA
animal communication
cells
imaging
neurons
perception
physiology
ultrasound
Bibliographic information
DOI

https://doi.org/10.1007/978-1-4419-5686-6

Copyright Information

Springer-Verlag New York 2010

Publisher Name

Springer, New York, NY

eBook Packages

Biomedical and Life Sciences

Print ISBN

978-1-4419-5685-9

Online ISBN

978-1-4419-5686-6