Genetics and Genomics of Populus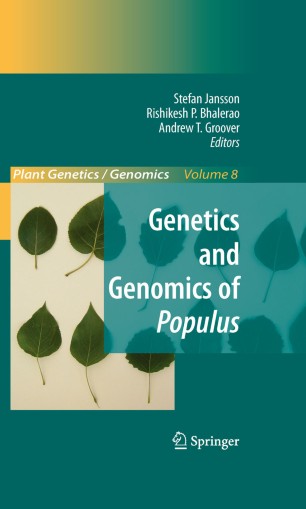 Table of contents
About this book
Introduction
Trees are truly amazing! Woody species underpin vital terrestrial ecosystems, present a complex array of evolutionary novelties, and provide essential benefits and commodities. Trees play a key role in the major biogeochemical cycles, including water, oxygen, and nitrogen. Notably, forests are second only to oceans in the biological sequestration of carbon, and forests are recognized for their vital role in regulating the concentration of the greenhouse gas, CO2. At the same time, forests are threatened by land clearing for development and agriculture, introduced pathogens and insects, and by climate change.
A fundamental need encompassing all of these scientific, economic, and management issues is a better understanding of the basic biology of forest trees. As the power of genetic model systems for biological research became increasingly obvious, the need for a good tree model system grew. Gradually, Populus – a genus consisting of over 30 species with a wide geographic distribution - developed into the prime model system for tree research. With the advent of Populus as a full-fleshed model system for plant genetic and genomics, tools are now available for plant researchers to explore these fascinating aspects of tree biology.
Genetics and Genomics of Populus provides an indepth description of the genetic and genomic tools and approaches for Populus, examines the biology that has been elucidated using genomics, and looks to the future of this unique model plant. This volume is designed to serve both experienced Populus researchers and newcomers to the field. Contributors to the volume are a blend of researchers, some who have spent most of their research career on Populus and others that have moved to Populus from other model systems. Research on Populus forms a useful complement to research on Arabidopsis. In fact, many plant species found in nature are – in terms of the life history and genetics – more similar to Populus than to Arabidopsis. Thus, the genetic and genomic strategies and tools developed by the Populus community, and showcased in this volume, will hopefully provide inspiration for researchers working in other, less well developed, systems.
Stefan Jansson is Professor at Umeå Plant Science Centre, Department of Plant Physiology, Umeå University. He was the European coordinator during the Populus genome sequencing initiative, and has a research focus on natural variation and autumn senescence.
Andrew T. Groover studies the developmental biology of forest trees, with a primary focus on secondary growth and wood formation. He is a Geneticist and Director of the Institute of Forest Genetics, US Forest Service, in Davis California.
Rishikesh P. Bhalarao is Professor at Umeå Plant Science Centre, Department of Forest Genetics and Plant Physiology, Swedish University of Agricultural Sciences. His primary research interests are auxin signaling and seasonal activity/dormancy transitions of the cambium.
Keywords
Greenhouse
Nucleotide
Pathogen
breeding
cyclin
ecosystem
evolution
forest
forest trees
genetics
metabolism
nitrogen
physiology
systematics
woody species
Bibliographic information