Holistic Engineering Education
Beyond Technology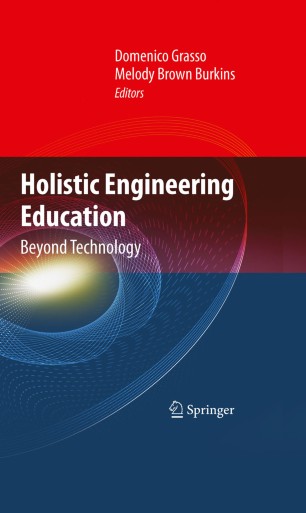 About this book
Introduction
Holistic Engineering Education: Beyond Technology
is a compilation of coordinated and focused essays from world leaders in the engineering profession who are dedicated to a transformation of engineering education and practice. The contributors define a new and holistic approach to education and practice that captures the creativity, interdisciplinarity, complexity, and adaptability required for the profession to grow and truly serve global needs. With few exceptions today, engineering students and professionals continue to receive a traditional, technically-based education and training using curriculum models developed for early 20th century manufacturing and machining. While this educational paradigm has served engineering well, helping engineers create awe-inspiring machines and technologies for society, the coursework and expectations of most engineering programs eschew breadth and intellectual exploration to focus on consistent technological precision and study. Why this dichotomy?
While engineering will always need precise technological skill, the 21st century innovation economy demands a new professional perspective that recognizes the value of complex systems thinking, cross-disciplinary collaborations, economic and environmental impacts (sustainability), and effective communication to global and community leaders, thus enabling engineers to consider "the whole patient" of society's needs. The goal of this book is to inspire, lead, and guide this critically needed transformation of engineering education.
"Holistic Engineering Education: Beyond Technology points the way to a transformation of engineering education and practice that will be sufficiently robust, flexible, and systems-oriented to meet the grand challenges of the 21st century with their ever-increasing scale, complexity, and transdisciplinary nature."
-- Charles Vest, President, National Academy of Engineering; President Emeritus, MIT

"This collection of essays provides compelling arguments for the need of an engineering education that prepares engineers for the problems of the 21st century. Following the National Academy's report on the Engineer of 2020, this book brings together experts who make the case for an engineering profession that looks beyond developing just cool technologies and more into creating solutions that can address important problems to benefit real people."
-- Linda Katehi, Chancellor, University of California at Davis
"This superb volume offers a provocative portrait of the exciting future of engineering education…A dramatically new form of engineering education is needed that recognizes this field as a liberal art, as a profession that combines equal parts technical rigor and creative design…The authors challenge the next generation to engineering educators to imagine, think and act in new ways. "
-- Lee S. Shulman, President Emeritus, The Carnegie Foundation for the Advancement of Teaching and Charles E. Ducommun Professor of Education Emeritus, Stanford University
Contributors:
Wanda Austin, President and CEO, The Aerospace Corporation, and Adjunct Faculty, University of Southern California, Los Angeles, CA, USA
Dennis D. Berkey, President, Worcester Polytechnic Institute, Worcester, MA, USA
Melody Brown Burkins, Senior Director of Research and Strategic Initiatives, The University of Vermont, Burlington, VT, USA
Richard J. Byrne, Vice President, The MITRE Corporation, Bedford, MA, USA
Carol T. Christ, President, Smith College, Northampton, MA, USA
Nicholas Donofrio, Executive Vice President Emeritus and Fellow, IBM Innovation and Technology, Armonk, NY, USA
James J. Duderstadt, President Emeritus and University Professor of Science and Engineering, The University of Michigan, Ann Arbor, MI, USA
Marie Francesca, Director, Corporate Engineering Operations, The MITRE Corporation, Bedford, MA, USA
Hector Gallegos, President, Peruvian College of Engineering and Professor, Pontificia Universidad Católica, Lima, Perú
David E. Goldberg, Jerry S. Dobrovolny Distinguished Professor, Co-Director, Illinois Foundry for Innovation in Engineering Education (iFoundry), and Director, Illinois Genetic Algorithms Laboratory, University of Illinois at Urbana-Champaign, Urbana, IL, USA
Mark Goodman, Director, Strategic Planning, The Aerospace Corporation, Los Angeles, CA, USA
Domenico Grasso, Vice President for Research and Dean of the Graduate College, The University of Vermont, Burlington, VT, USA
Alfred Grasso, President and CEO, The MITRE Corporation, McLean, VA, USA
Priscilla Guthrie, Associate Director of National Intelligence and Intelligence Community Chief Information Officer, Office of Director of National Intelligence, Washington, DC, USA
Joseph J. Helble, Dean and Professor, Thayer School of Engineering, Dartmouth College, Hanover, NH, USA
Stephen D. Huffman, Vice President and CTO, The MITRE Corporation, McLean, VA, USA
Catherine P. Koshland, Vice Provost, Academic Planning & Facilities and Wood-Calvert Professor in Engineering, University of California, Berkeley, CA, USA
John M. Kreger, Chief Systems Engineer, The MITRE Corporation, McLean, VA, USA
David Martinelli, Professor, Department of Civil and Environmental Engineering, West Virginia University, Morgantown, WV, USA
Louis S. Metzger, Senior Vice President and Corporate Chief Engineer, The MITRE Corporation, McLean, VA, USA
Ioannis Miaoulis, President and Director, Museum of Science, Boston, MA, USA
M. Granger Morgan, Professor and Head, Department of Engineering and Public Policy, Carnegie-Mellon University, Pittsburgh, PA, USA
Calline Sanchez, Director of IBM Systems Storage Development, IBM Innovation and Technology, Armonk, NY, USA
Jim Spohrer, Director, Almaden Services Research, Almaden Research Center, IBM Research, San Jose, San Jose, CA, USA
Charles Tang, Principal Engineer/Scientist, The Aerospace Corporation, and Adjunct Faculty, University of Southern California, Los Angeles, CA, USA
Marilee Wheaton, General Manager, Systems Engineering Division, The Aerospace Corporation, University of Southern California, and Adjunct Faculty, Los Angeles, CA, USA
Suzette Williamson, Executive Director, The Institute for Management and Engineering (TiME), Case Western Reserve University, Cleveland, OH, USA
Charla K. Wise, Vice President, Lockheed Martin Corporation, Bethesda, MD, USA
Gary E. Wnek, Faculty Director and Joseph F. Toot, Jr., Professor of Engineering, The Institute for Management and Engineering (TiME), Case Western Reserve University, Cleveland, OH, USA
Pan Yunhe, Executive Vice President, Chinese Academy of Engineering and President Emeritus, Zhejiang University, Hangzhou, China
Keywords
Complex Systems
Green Engineering
Holistic Engineering
Sustainability Engineering
Unity of Knowledge
education
engineering curriculum
engineering education transformation
green engineering education
profession
rethinking Engineering Education
teaching engineering
Bibliographic information
DOI

https://doi.org/10.1007/978-1-4419-1393-7

Copyright Information

Springer-Verlag New York 2010

Publisher Name

Springer, New York, NY

eBook Packages

Engineering

Print ISBN

978-1-4419-1392-0

Online ISBN

978-1-4419-1393-7