© 2010
Global Warming
Engineering Solutions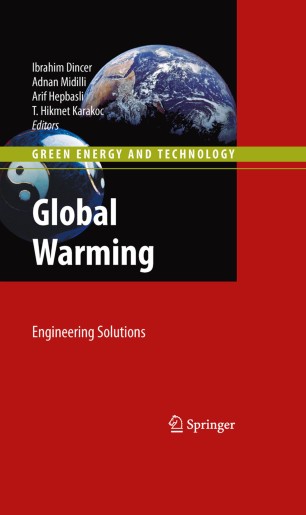 Table of contents
About this book
Introduction
Global Warming: Engineering Solutions goes beyond discussing the definition and causes of climate change, and offers concrete solutions for solving global warming. Innovative and forward-thinking engineering solutions are needed to tackle global warming's threat to the planet, and this book offers numerous methods to address global warming's identified causes.
Drawing upon the collective knowledge of renowned experts, Ibrahim Dincer, Arif Hepbasil, Adnan Midilli and T. Hikmet Karakoc have assembled a wide ranging treatise on engineering solutions to global warming that includes:
Ideas for correcting carbon dioxide and other emission pollution

Exploring the relationship between global warming and thermodynamics

Examining the sustainability and practicality of the most prevalent forms of clean energy.
Global Warming: Engineering Solutions explores the major threats of global warming from an engineering perspective, explicating practical deployments of systems that could be implemented and work towards staving off global climate change. This book is a must-read for any researchers and engineers interested in gaining an applicable knowledge of how to prevent and control global warming through engineering.
Keywords
Aerosol
carbon dioxide pollution
climate change
conservation
emission pollution
emission reduction
energy conversion technologies
energy management
engineering solutions
global warming
poor energy and environment policies
renewable and sustainable energy technologies
solar energy
solar power
Bibliographic information
Reviews
From the reviews:
"The book under review in its introductory chapter … describe the global warming problem and its impact on our planet's health and guides us towards the cures based on engineering solutions provided in the rest of the volume. … The engineering solutions provided in the book are mainly based on lab scale demonstrations with the potential for reducing GHG emissions when implemented on a full scale basis. … this book is a good read for all those interested in the subject." (Vishal Toro, Green Energy, Vol. 6 (6), November-December, 2010)