© 2010
Handbook of Stressful Transitions Across the Lifespan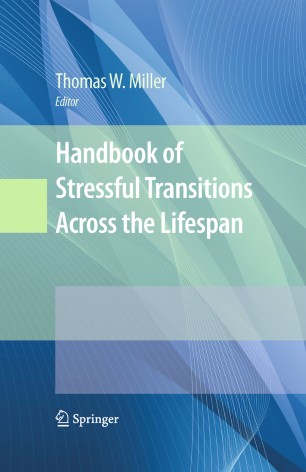 Table of contents
About this book
Introduction
The modern life cycle is characterized by stressful transitions, when unexpected events—and even many expected ones—challenge people's functioning, health, and sense of self-worth. The international, multidisciplinary perspectives provided in the Handbook of Stressful Transitions Across the Lifespan cover these periods as they occur through youth, adulthood, and aging, bringing together theoretical and clinical findings, case studies, and literature reviews in one authoritative volume.
A diverse panel of clinicians, researchers, and educators focuses on the psychological, biological, cultural and spiritual factors surrounding not only trauma and loss but also coping and growth, risk and mitigating factors, and promising interventions. Whether topics are just beginning to receive in-depth attention (the first job; becoming adoptive parents), ongoing issues requiring new insights (veterans' adjustment to civilian life; chronic illness), or emerging concepts (trauma growth; animal-assisted therapy), coverage is well-written, engaging, and eminently useful.
A sampling of the topics featured in the Handbook:
The developmental neurobiology of stress.

The long-term effects of divorce on children.

Self-regulation across life transitions.

Money in (E)motion: stressful financial transitions.

The influence of food on adapting to life stressors.

The transition to retirement as a stressful event.
With its comprehensive scope and wealth of data, the Handbook of Stressful Transitions Across the Lifespan will appeal to a variety of professional readers, including researchers and scholars in the fields of social, developmental and clinical psychology, sociology, and public health.
Keywords
Emotion
Erik Erikson
Parkinson
Public Health
Stress
development
genetics
intervention
Bibliographic information
Book Title

Handbook of Stressful Transitions Across the Lifespan

Editors

Thomas W. Miller


DOI

https://doi.org/10.1007/978-1-4419-0748-6

Copyright Information

Springer-Verlag New York

2010

Publisher Name

Springer, New York, NY

eBook Packages

Behavioral Science Behavioral Science and Psychology (R0)

Hardcover ISBN

978-1-4419-0747-9

Softcover ISBN

978-1-4939-3931-2

eBook ISBN

978-1-4419-0748-6

Edition Number

1

Number of Pages

XXIII, 691

Number of Illustrations

0 b/w illustrations, 0 illustrations in colour
Reviews
From the reviews:
"From theory to practice, the Handbook of Stressful Transitions Across the Lifespan takes the reader from the process of recognition to the challenge of helping clients understand and adjust to stress-induced changes in their lives. Its thirty four well-organized chapters exhaustively cover the spectrum of human experience. Each addresses the nature of personal transitions and the distortions that stress introduces to normal development over the lifespan. It is a very helpful book, and it belongs in your collection."
- Steve Schlesinger, Assistant Professor, Department of Psychology, Northwestern University School of Medicine
"The Handbook of Stressful Transitions Across the Lifespan, a multidisciplinary and international volume, is well founded in neurobiological and psycho-social theory elaborating on the stressful transitions occurring throughout life. It is unique in addressing not only life threatening transitions in health and illness, but legal, ethical and financial transitions, as well as those related to education and career. The Handbook further examines the issues surrounding marriage, family, and sexual transitions as well as the cultural, religious and spiritual transitions experienced through life experiences. It is noteworthy that directions for the future are provided to the reader by Handbook's exploration of the impact of genetic testing, survival of stressful transitions, and examination of post traumatic growth required by humans in order to adapt and accommodate to life successfully. The Handbook provides practical guidance to the reader for meeting these challenging needs of their clients.
- James Holsinger, Professor, Department of Health Services Management, University of Kentucky
The "Handbook of Stressful Transitions Across the Lifespan" is an exceptional multidisciplinary volume, which provides it's readers with an authoritative "one stop" resource for acquiring a comprehensive understanding of the impact of stress across the life cycle. Drawing from a range of international perspectives and scientific disciplines, this collection masterfully succeeds in combining breadth of scope with richness of detail by exploring life transitions through a variety of personal, theoretical, and clinical lenses. Whether working at the bench or the bedside, this handbook will prove invaluable to a wide cross section of professionals working in the fields of medicine, psychology, counseling, and education.
- William P. French MD, Department of Psychiatry, Seattle Children Hospital & University of Washington
"The Handbook of stressful transitions across the lifespan is a substantial tome. The Handbook is directed at both practitioners and researchers. A rich mixture indeed! It builds on the editor's earlier series of publications on stressful life events (Miller 1989, 1996, 1997, 1998). Overall, it is Erik Erikson's theory of lifespan development that receives most detailed attention, including Clark's pschobiographical analysis. Weitzel writes eloquently and unsentimentally about his experience of Parkinson's disease. Then, three of the five authors of a chapter on the aftermath of unexpected traumatic change recount – in one case with the assistance of another of the authors - their experience of living through serious, sudden and unexpected trauma. Williams' chapter focuses specifically on what he terms transition psychology, which he uses to consider and indeed predict responses to, amongst other things, mass traumas such as natural disasters and terrorist attacks. You will find chapters that are primarily scholarly discussions and overviews - including Lacković-Grgin and Penezić's (chapter 22) on self-regulation and Wheeler's (chapter 26) on African-centered spirituality and its role of in facilitating transition. Elsewhere, there is discussion of more narrowly defined or practically-oriented topics – including nutrition (Ilich and Brownbill, chapter 31), animal and animal-assisted therapy (Adams, chapter 32), the role of humour (Kuhn, Nichols and Belew, chapter 33), and the need for financial planning (Boardmann, chapter 15). In the best tradition of Handbooks, such variety leads readers into new and varied fields of inquiry. I do have a few minor quibbles. I was surprised to see no mention of Erikson's 'ninth stage' (Erikson, 1997), or of the associated theorizing and research on gerotranscendence (for example, Tornstam, 2005). But these criticisms are small beer. Whilst this is not perhaps a book to be read cover-to-cover, it is certainly a book to be consulted, mined and returned to. Miller's Handbook of stressful transitions across the lifespan is undoubtedly a wide ranging and valuable reference text."
- Dr Léonie Sugarman, Reader in Applied Psychology, University of Cumbria
"For this valuable collection, Miller gathered expert papers addressing key issues in life transitions ranging from college to the workplace and including, for example, refugee displacement and resettlement and the transition to adoptive parenthood--a broad, ambitious scope. … This handbook should interest anyone interested in lifespan studies and the state of research on it. Summing Up: Recommended. All readers." (P. Flattau, Choice, Vol. 47 (11), July, 2010)