© 2010
Instructional Explanations in the Disciplines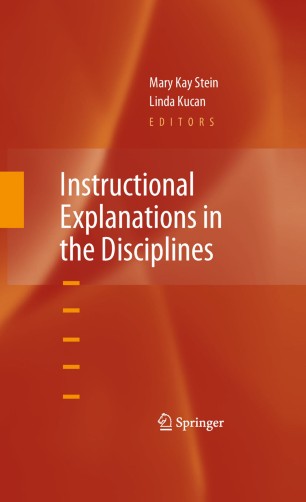 Table of contents
About this book
Introduction
In today's climate of accountability and standards, increasing attention is focused on teacher "quality," with less emphasis on what teachers actually do to interest and engage students in learning. This path-breaking volume addresses this research problem with a clear definition and a content-specific analysis of the most essential teaching moment—the instructional explanation—for vital new perspectives on educational method and process.
Rich in examples from science, mathematics, and the humanities (and touching on areas of course development and pre-service training), Instructional Explanations in the Disciplines explores a variety of interactive contexts for teaching and learning, which may be collaborative between teachers, students, and others, performed in non-classroom settings, or assisted by technology. The book's subject-matter-specific framework reveals key elements in the process, such as carefully examining the question to be answered, making connections with what is already known, and developing examples conducive to further understanding.
Among the topics covered:
The model as a method of explanation in science

How—and why—teachers explain things as they do

"Let us explain with you": introducing instructional explanations

How families talk about art in museum settings, and what we can learn from it

Developing writing skills through students' giving instructional explanations

Instructional explanation in the context of learning and identity
Instructional Explanations in the Disciplines is a valuable addition to the education library, giving researchers new methods of unpacking educational process as few books before it.
Keywords
Framing Inst
Gaea Leinhardt
Instructional Conversations
Instructional Explanation
Instructional Explanations in Informal Settings
Language in Historical Explanations
Learning Chemistry
Learning and Identity
Lehrer
Modeling
Teaching and Learning Mathematics
Teaching and Learning of Humanities
Teaching and Learning of Science
attention
learning
Bibliographic information