The Role of Genetics in Breast and Reproductive Cancers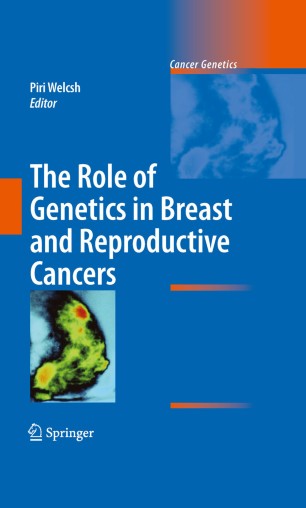 Table of contents
About this book
Introduction
Of all factors contributing to breast cancer, family history of disease is the most powerful. Currently, our understanding of genetic predisposition to breast cancer includes three classes of genes as defined by their associated risks. BRCA1 and BRCA2 are high-penetrance breast cancer predisposition genes. Since the cloning of BRCA1 and BRCA2, inherited mutations in an additional 8 genes, all of which are functionally related to BRCA1 and/or BRCA2, have been shown to variously confer a low-intermediate increased breast cancer risk. Furthermore, recent genome-wide association studies have uncovered eight common variants associated with low-penetrance breast cancer predisposition. Despite these discoveries, most of the familial risk of breast cancer remains unexplained.
The Role of Genetics in Breast and Reproductive Cancers is divided into three parts: Recognition of Hereditary Breast and Reproductive Cancer Syndromes, Genetic etiology of breast and reproductive cancers, and Genes and the environment. In the first section, we discuss how genetic counselors and clinicians acknowledge hereditary breast and reproductive cancer syndromes, with an emphasis on the challenges and responsibilities of counseling women in understanding the role of family history in dictating personal cancer risk. This section includes a detailed discussion of the current recommendations for clinical management of women with inherited mutations in BRCA1 and BRCA2.
Section II focuses on the impact of inherited mutations in known breast cancer genes on the etiology of breast and reproductive cancers, and the challenges of determining cancer risk when genetic testing reveals variants of unknown consequence in BRCA1 and BRCA2. Because the cellular function of BRCA2 has so elegantly been revealed, we devote a chapter to the current understanding of BRCA2 function and how loss of function contributes to disease development. In addition, we present a discussion of genetic modifiers of risk of BRCA1- and BRCA2-related cancers, and chapters on other hereditary breast cancer syndromes and genes, and ovarian and endometrial cancers in patients with Hereditary Non-Polyposis Colorectal Cancer syndrome. Finally, we conclude this section with two chapters that respectively discuss somatic alterations in breast and in ovarian cancer.
The third and final section discusses how recent advances in genomic technologies are being applied to decipher the intricate relationship between genetic variation and the environment, to better predict individual cancer risk, and to development of reagents for disease prevention and treatment. We conclude with a discussion of the role of epigenetics in breast and ovarian cancer development. This final chapter focuses on the exciting prospect that epigenetic changes can be used as predictive and prognostic biomarkers and, because they are reversible, targets for development of pharmacologic reagents to manage disease.
Piri L. Welcsh, PhD is a Research Assistant Professor in the Department of Medicine, Division of Medical Genetics at the University of Washington. She received her PhD in Molecular Genetics from The Ohio State University. It was during this time that the seminal paper in which Dr. Mary-Claire King demonstrated that a single gene on chromosome 17, later known as BRCA1, was responsible for many breast and ovarian cancers was published. During Postdoctoral studies at the University of Texas Southwestern Medical Center in Dallas, Dr. Welcsh worked under the guidance of Dr. Anne M. Bowcock and collaborated with Drs. Mary-Claire King and Francis Collins in an attempt to clone BRCA1. Shortly after the gene encoding BRCA1 was identified, Dr. Welcsh joined the research group of Dr. King at the University of Washington where she conducted studies designed to elucidate the biological function of BRCA1. She is currently an independent investigator whose current research goals include the identification and characterization of both genetic and epigenetic mechanisms critical to the development of breast and ovarian cancer.
Keywords
Allele
BRCA
genes
genetics
genomics
ovarian cancer
Bibliographic information