The Politics of Adoption
International Perspectives on Law, Policy & Practice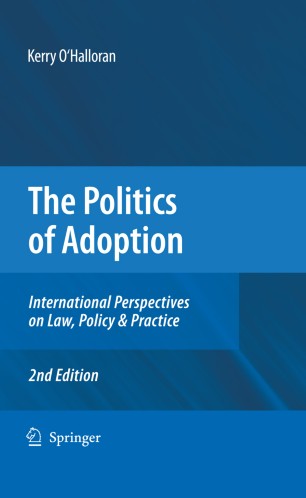 About this book
Introduction
This book updates and significantly extends the first edition published by Springer in 2005. It addresses the social and legal functions of adoption, the changes currently taking place in England & Wales and developments in other common law countries. It identifies themes of commonality and difference in the experience of adoption in a common law context as compared and contrasted with that of civil law countries, other cultures in Asia and with the experience of indigenous peoples. It uses the international Conventions and associated ECtHR case law to benchmark developments in national law, policy and practice and to facilitate a cross-cultural comparative analysis. Like the first edition, this book will fit most comfortably in undergrad & postgrad Law and Social Work courses; also it would be relevant to sociology and politics.
This book aims to provide an analysis of adoption law, policy & practice in a common law context and to compare and contrast this with the equivalent experience of other cultures. It basically -
traces the evolution of adoption law, policy and practice across many centuries within England and Wales and other typical common law nations giving particular attention to conceptual and definitional matters;

identifies and evaluates themes in the contemporary adoption processes of England and Wales and those other common law countries;

identifies relevant international Conventions and related judicial decisions and analyses their capacity to function as benchmarks for national adoption law, policy and practice;

uses those themes and benchmarks to construct a template for comparative analysis purposes;

employs the template to conduct a comparative evaluation of equivalent themes in other cultural contexts, including Sweden, France, Japan and in an Islamic context;

contrasts the highly regulated legal process of modern western society with the traditional practice of indigenous communities such as the Maori;

explores the politics of intercountry adoption;

and concludes with an analysis of the significance of differences in cultural context for adoption law, policy & practice.
Keywords
Adoption
Adoption Law
Adoption Politics
Adoption policy &amp
Adoption processes
Common Law Adoptions
Comparative Analysis
Contrast with Civil Law
Inter-country adoption
International Adoption Conventions
practice
Bibliographic information