Managing Forest Ecosystems: The Challenge of Climate Change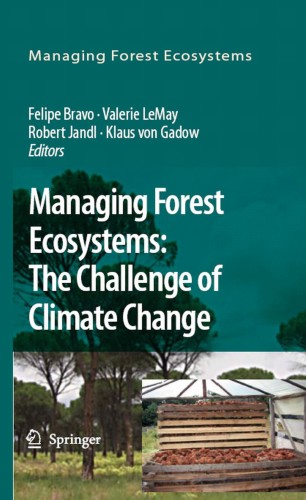 Table of contents
About this book
Introduction
With climate change now charging up the political agenda, there are three issues commonly making the headlines: carbon budgets, renewable energy, and the anticipated impacts of climate change. Equally important, though currently less well covered, is the issue how these effects might be mitigated.
Given the significant role that forests play in the climate system – as sources, sinks, and through carbon trading – this book discusses the current scientific evidence on the relationships between climate, forest resources and forest management practices around the world.
Drawing on expertise from forest scientists from several continents, the book presents both in depth analysis of the current knowledge, and a series of case studies which assess the biological and the economic impacts of climate change. It includes sections on forest responses to climate change, monitoring and modeling changes, economic and management implications, and carbon sequestration under specific management systems.
The book will form a valuable resource for researchers and advanced students dealing with sustainable forestry, climate change issues and the effects of climate change on natural resource management.
Keywords
Biom
Carbon
Climate change
Forest
Forest management
Forestry
Greenhouse gas
Mangrove
Scale
Silviculture
Tropical forests
Wood products
climate system
ecosystem
production
Bibliographic information