Intelligent Knowledge-Based Systems
Business and Technology in the New Millennium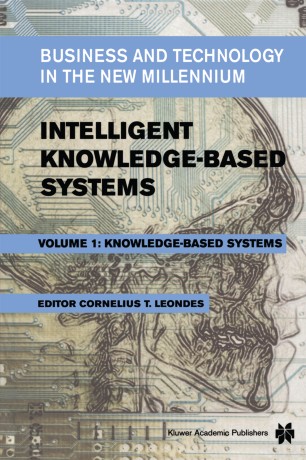 Table of contents
About this book
Introduction
For most of our history the wealth of a nation was limited by the size and stamina of the work force. Today, national wealth is measured in intellectual capital. Nations possessing skillful people in such diverse areas as science, medicine, business, and engineering produce innovations that drive the nation to a higher quality of life. To better utilize these valuable resources, intelligent, knowledge-based systems technology has evolved at a rapid and significantly expanding rate.
Reflecting the most fascinating AI-based research and its broad practical applications, intelligent, knowledge-based systems technology is being utilized by nations to improve their medical care, advance their engineering technology, and increase their manufacturing productivity, as well as play a significant role in a very wide variety of other areas of activity of substantive significance. Today, in the beginning of the 21st century, it is difficult to imagine the development of the modern world without extensive use of the AI information technology that is rapidly transforming the global, knowledge- based economy as well as entire societies.
The breadth of the major application areas of intelligent, knowledge-based systems technology is very impressive. These include, among other areas:
Agriculture, Business, Chemistry, Communications, Computer Systems, Education, Electronics, Engineering, Environment, Geology, Image Processing, Information Management, Law, Manufacturing, Mathematics, Medicine, Meteorology, Military, Mining, Power Systems, Science, Space Technology, and Transportation.
The great breadth and expanding significance of this field on the international scene require a multi-volume, major reference work for an adequately substantive treatment of the subject, "Intelligent Knowledge-Based Systems: Business and Technology in The New Millennium." This work consists of the following distinctly titled and well integrated volumes. Volume I. Knowledge-Based Systems; Volume II. Information Technology; Volume III.Expert and Agent Systems; Volume IV.Intelligent Systems; Volume V.Neural Networks. This five-volume set clearly manifests the great significance of these key technologies for the new economies of the new millennium.
The Volumes: Volume 1, Knowledge-Based Systems, addresses the basic question of how accumulated data and staff expertise from business operations can be abstracted into useful knowledge, and how such knowledge can be applied to ongoing operations. The wide range of areas represented includes product innovation and design, intelligent database exploitation, and business model analysis. (Eleven chapters) Volume 2, Information Technology, addresses the important question of how data should be stored and used to maximize its overall value. Case studies examine a wide variety of application areas including product development, manufacturing, product management, and product pricing. (Ten chapters) Volume 3, Expert and Agent Systems, considers such application areas as image databases, business process monitoring, e-commerce, and production planning and scheduling, offering a wide range of perspectives and business-function concentrations to stimulate readers' innovative thought. (Ten chapters) Volume 4, Intelligent Systems, discusses applications in such areas as mission-critical functions, business forecasting, medical patient care, and product design and development. (Nine chapters) Volume 5, Neural Networks, Fuzzy Theory, and Genetic Algorithm Techniques, explores applications in such areas as bioinformatics, product life-cycle cost estimating, product development, computer-aided design, product assembly, and facility location. (Ten chapters) The discussions in these volumes provide a wealth of practical ideas intended to foster innovation in thought and, consequently, in the further development of technology. Together, they comprise a significant and uniquely comprehensive reference source for research workers, practitioners, computer scientists, academics, students, and others on the international scene for years to come.
Keywords
Information Technology (IT)
Planning
business process
data warehouse
expert system
information system
innovation
knowledge
knowledge management
knowledge-based system
knowledge-based systems
management
modeling
production
technology
Bibliographic information
DOI

https://doi.org/10.1007/978-1-4020-7829-3

Copyright Information

Springer-Verlag US 2005

Publisher Name

Springer, Boston, MA

eBook Packages

Computer Science

Print ISBN

978-1-4020-7746-3

Online ISBN

978-1-4020-7829-3