Healthy Longevity in China
Demographic, Socioeconomic, and Psychological Dimensions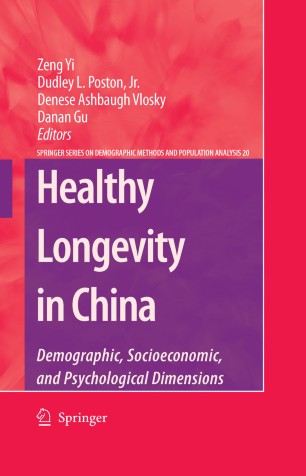 Table of contents
About this book
Introduction
China is aging at an extraordinary speed and has the largest quantity of elderly persons in the world. Scholars utilize this unprecedented living experience of human being and the unique Chinese Longitudinal Healthy Longevity Survey (CLHLS) datasets with the aim to answer in this volume the following questions critical to the aging population world wide. Is the period of disability compressing or expanding with increasing life expectancy and what factors are associated with these trends in the recent decades? Is it possible to realize morbidity compression with a prolongation of the life span in the future?
The first section of the book presents the CLHLS project's study design, sample distribution, contents of data collected, and assessments of age reporting and data quality. The remaining chapters are grouped into sections dealing with the demographic, social, economic, familial and psychological dimensions of healthy longevity.
This volume contributes to the development of scientific knowledge related to the "slowing down" of the pace of progression of morbidity with mortality declines at older ages. Research findings reported in this book are instrumental in the ultimate realization of the long-term dream of healthy longevity, that is, not only living longer, but living a healthier life.
"The research in this book captures the highlight of a decade of effort on CLHLS study and represents an important milestone in our emerging understanding of how individuals can endeavor to live a long, healthy life and how societies can help them do so. We still have only a partial understanding of the determinants of healthy longevity, but we have a considerably better understanding than we had a decade ago. Moreover, we can look forward to prospects for a deeper understanding based in significant measure on the further analysis of data from the ongoing CLHLS endeavor."
-- James W. Vaupel, Director of Max Planck Institute for Demographic Research and Professor of Duke University
"The CLHLS casts valuable light on important features of the aging process in the world's largest country. This volume will serve as a basic reference work both for Chinese studies and for comparative analyses."
-- Samuel Preston, Frederick Warren Professor of Demography, University of Pennsylvania
"The CLHLS is a fantastic enterprise which started 10 years ago and which will leave a benchmark of the social, economic, and familial situation of the Chinese elderly at the time when they comprised 7% of the whole population and when China entered a new period of accelerated aging. From now on population aging in China and its social consequences, as well as individual lengthening of life and its health consequences will be carefully assessed in reference to the CLHLS. We dream to have such studies for the other large countries on the point of also experiencing similar demographic changes"
-- Jean-Marie Robine, Research Director at the French National Institute of Health and Medical Research and Professor of University of Montpellier
Keywords
Ageing
Assessment
China
Demographic Changes
Demographic change
Demography
Disability and mental health
Family and social support
Gender
Gerontology
Healthy Aging
Longevity
Social Sciences
age
morbidity
Bibliographic information
DOI

https://doi.org/10.1007/978-1-4020-6752-5

Copyright Information

Springer Science+Business Media B.V. 2008

Publisher Name

Springer, Dordrecht

eBook Packages

Humanities, Social Sciences and Law

Print ISBN

978-1-4020-6751-8

Online ISBN

978-1-4020-6752-5

Series Print ISSN

1389-6784