A Legacy for Living Systems
Gregory Bateson as Precursor to Biosemiotics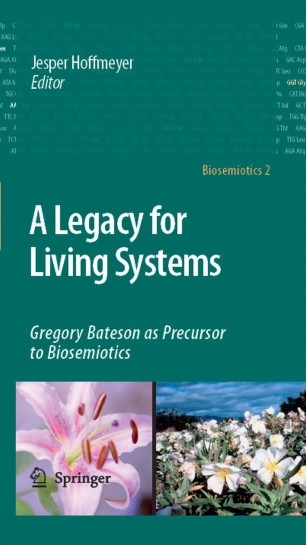 About this book
Introduction
Gregory Bateson's contribution to 20th century thinking has appealed to scholars from a wide range of fields dealing in one way or another with aspects of communication and epistemology. A number of his insights were taken up and developed further in anthropology, psychology, evolutionary biology and communication theory. But the large, trans-disciplinary synthesis that, in his own mind, was his major contribution to science received little attention from the mainstream scientific communities.
This book represents a major attempt to revise this deficiency. Scholars from ecology, biochemistry, evolutionary biology, cognitive science, anthropology and philosophy discuss how Bateson's thinking might lead to a fruitful reframing of central problems in modern science. Most important perhaps, Bateson's bioanthropology is shown to play a key role in developing the set of ideas explored in the new field of biosemiotics. The idea that organismic life is indeed basically semiotic or communicative lies at the heart of the biosemiotic approach to the study of life.
The only book of its kind, this volume provides a key resource for the quickly-growing substratum of scholars in the biosciences, philosophy and medicine who are seeking an elegant new approach to exploring highly complex systems.
"What pattern connects the crab to the lobster and the orchid to the primrose and all the four of them to me? And me to you?"
- Gregory Bateson
from Mind and Nature
Keywords
Adaptation
Biosemiotics
Evolution
Gregory Bateson
Meaning
Mind
cognitive science
communication
complex system
evolutionary biology
media
medicine
protocells
Bibliographic information