© 2011
Dendroclimatology
Progress and Prospects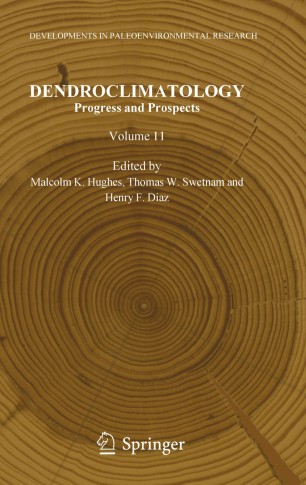 Table of contents
About this book
Introduction
A top priority in climate research is obtaining broad-extent and long-term data to support analyses of historical patterns and trends, and for model development and evaluation. Along with directly measured climate data from the present and recent past, it is important to obtain estimates of long past climate variations spanning multiple centuries and millennia. These longer time perspectives are needed for assessing the unusualness of recent climate changes, as well as for providing insight on the range, variation and overall dynamics of the climate system over time spans exceeding available records from instruments, such as rain gauges and thermometers.
Tree rings have become increasingly valuable in providing this long-term information because extensive data networks have been developed in temperate and boreal zones of the Earth, and quantitative methods for analyzing these data have advanced. Tree rings are among the most useful paleoclimate information sources available because they provide a high degree of chronological accuracy, high replication, and extensive spatial coverage spanning recent centuries. With the expansion and extension of tree-ring data and analytical capacity new climatic insights from tree rings are being used in a variety of applications, including for interpretation of past changes in ecosystems and human societies.
This volume presents an overview of the current state of dendroclimatology, its contributions over the last 30 years, and its future potential. The material included is useful not only to those who generate tree-ring records of past climate-dendroclimatologists, but also to users of their results-climatologists, hydrologists, ecologists and archeologists.
'With the pressing climatic questions of the 21st century demanding a deeper understanding of the climate system and our impact upon it, this thoughtful volume comes at critical moment. It will be of fundamental importance in not
only guiding researchers, but in educating scientists and the interested lay person on the both incredible power and potential pitfalls of reconstructing climate using tree-ring analysis.', Glen M. MacDonald, UCLA Institute of the Environment, CA, USA
'This is an up-to-date treatment of all branches of tree-ring science, by the world's experts in the field, reminding us that tree rings are the most important source of proxy data on climate change. Should be read by all budding dendrochronology scientists.', Alan Robock, Rutgers University, NJ, USA
Keywords
Climatology
Dendrochronology
Dendroclimatology
Paleoclimatology
Tree rings
Bibliographic information
Book Title

Dendroclimatology

Book Subtitle

Progress and Prospects

Editors

Malcolm K. Hughes
Thomas W. Swetnam
Henry F. Diaz


Series Title

Developments in Paleoenvironmental Research

DOI

https://doi.org/10.1007/978-1-4020-5725-0

Copyright Information

Springer Science+Business Media B.V.

2011

Publisher Name

Springer, Dordrecht

Hardcover ISBN

978-1-4020-4010-8

Softcover ISBN

978-94-007-3393-0

eBook ISBN

978-1-4020-5725-0

Series ISSN

1571-5299

Edition Number

1

Number of Pages

XII, 368

Number of Illustrations

0 b/w illustrations, 0 illustrations in colour