International Handbook of Higher Education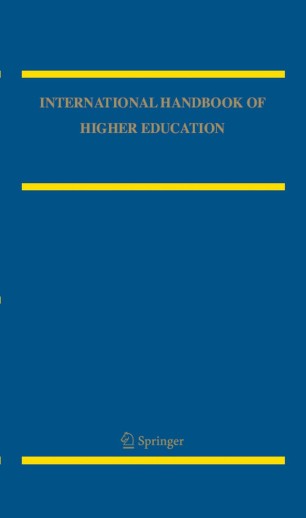 Table of contents
About this book
Introduction
Higher education is a truly global activity, built around the intersections of international knowledge networks in which institutions, faculty and students explore, create and share knowledge. Virtually all colleges and universities stem from a common organizational model and intellectual history, and academic disciplines are defined worldwide in common terms – the study of sociology in Japan or Germany is seen roughly the same as the study of sociology in Canada or the United States.
The purpose of this publication is to provide a central, authoritative reference source on the most essential topics of higher education. The International Handbook of Higher Education combines a rich diversity of scholarly perspectives with a wide range of internationally derived descriptions and analyses. Chapters in the first volume cover central themes in the study of higher education, while contributors to the second volume focus on contemporary higher education issues within specific countries or regions. Together, these volumes provide a centralized, easily accessible, yet scholarly source of information.
Research scholars and graduate level students in higher education and related fields will find the Handbook useful for advancing their exploration of these central issues, while policymakers and academic administrators will find the thoughtful essays on a particular topic useful for decision-making. Overall, this Handbook provides a centralized collection of scholarship on an essential worldwide social institution.
Keywords
Bibliographic information