© 2009
Morality, Ethics, and Gifted Minds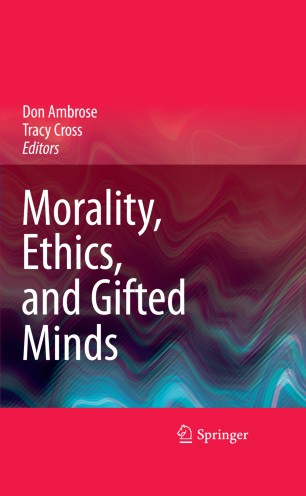 Table of contents
About this book
Introduction
Morality, Ethics, and Gifted Minds brings together the leading thinkers from diverse scholarly fields to share and integrate their perspectives on morality and high ability (giftedness, talent, creativity). These two broad areas of inquiry should have much more overlap and interconnection than currently exists. One of the many justifications for such connection making is the pressing need for the application of intelligent, creative minds to the many ethical dilemmas facing the world today. Another is the troubling propensity for some of the most creative, gifted people to generate or catalyze those ethical dilemmas. Along with many other leading authorities, most of the authors contributing to this book frequently lament the lack of wise analysis and problem solving in education and in attempts to grapple with moral issues in today's complex, socioeconomic, political, and cultural arenas.
This book explores much of the current wisdom on ethics and morality while developing new perspectives on the ethical dimensions of high ability. Prominent authors from diverse disciplines are brought together, recognizing that no single discipline can capture the essence and entirety of nettlesome, complex, multidimensional moral issues. More specifically, the book explores new dimensions of ethics and morality; magnifies the importance of applying highly intelligent minds to ethical issues while developing ways to strengthen the ethical awareness of the creative and gifted, and brings diverse, interdisciplinary perspectives to bear on these issues.

Morality, Ethics, and Gifted Minds will be of interest to researchers and practitioners in the fields of gifted education, creative studies, and general education.
Keywords
Altruism
Cognitive Diversity
Creative Intelligence
Ethical Leadership
Gifted Education
Giftedness
High Ability
Moral
Moral Creativity
Moral Development
Moral Imagination
education
ethics
Bibliographic information