Skin Cancer after Organ Transplantation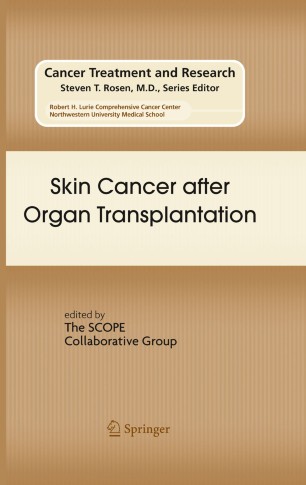 Table of contents
About this book
Introduction
Skin Cancer after Organ Transplantation presents the state-of-the-art knowledge of cutaneous malignancies following organ transplantation. The life promoting and life enhancing benefits of solid organ transplantation is a major medical advance, but at the cost of the life-long immunosuppression needed to prevent rejection of the donated organ. This induction and maintenance of impaired immunological surveillance is paralleled by a significant increase in the incidence of specific cancers, of which skin cancers are highest.
The book is divided into four sections, providing a basic overview on transplantation medicine, different immunosuppressive agents and their impact on the skin's immune system, epidemiology and pathophysiology of skin cancer, applicable prophylaxis and therapeutic measures.
1. Transplant medicine: Addresses the immunological background of organ transplantation, immunosuppression and the impact on the cutaneous immunosurveillance. Different immunosuppressive drugs are presented and their interaction with mechanisms of the cutaneous immunosurveillance against skin cancer, are discussed.
2. Post-transplant skin malignancies: Explores the pathogenesis of transplant skin cancer, epidemiological patterns in different geographical regions, clinical and histological features, etiological factors and molecular events in skin cancer induction and progression, i.e., photocarcinogenesis and UV-induced immunosuppression, and oncogenic viruses like human papillomavirus and human herpesvirus, type 8.
3. Specific skin cancers: Focuses on specific skin cancers in organ transplant recipients, especially the most predominant types, like squamous cell carcinoma, its precursor actinic keratoses, and basal cell carcinoma, but also malignant melanoma, Kaposi's sarcoma, cutaneous T-cell lymphoma and other, more rare skin malignancies.
4. Prophylaxis and therapies: Experts in the field recommend management strategies for preventing and treating transplant skin cancer, with an emphasis on a multidisciplinary approach. As scientists and clinicians strive together to develop effective chemopreventative agents in the face of this accelerated carcinogenesis, there is a real opportunity for advances in the treatment of transplant skin malignancies to translate into reduced skin cancer in the general population.
"Immunosuppression is an essential component of organ transplantation. Unfortunately, the risk of skin cancer is drastically increased in this setting. Distinguished investigators discuss the cause and therapeutic strategies involving the spectrum of cutaneous malignancies associated with immunosuppression." Steven T. Rosen, M.D., Series Editor
Keywords
carcinoma
cutaneous malignancy
epidemiology
immunosuppression
morbidity
organ transplantation
pathophyssiology
prophylaxis
Bibliographic information
DOI

https://doi.org/10.1007/978-0-387-78574-5

Copyright Information

Springer US 2009

Publisher Name

Springer, Boston, MA

eBook Packages

Medicine Medicine (R0)

Print ISBN

978-0-387-78573-8

Online ISBN

978-0-387-78574-5

Series Print ISSN

0927-3042