Career Development in Bioengineering and Biotechnology
Roads Well Laid and Paths Less Traveled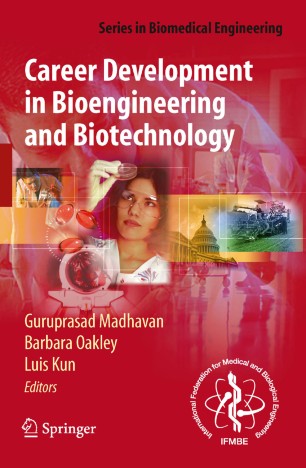 Table of contents
About this book
Introduction
Bioengineering and biotechnology are exploding—the number of career opportunities is expected to increase twice as fast as for other science and engineering fields over the next decade. Bioengineers and biotechnologists have enormous potential to meet employment needs ranging from traditional careers in science and engineering through a host of alternative career pathways.
This book provides a roadmap to the broad and varied career development opportunities in bioengineering, biotechnology, and related fields. Eminent practitioners lay out career paths related to academia, industry, government and regulatory affairs, healthcare, law, marketing, entrepreneurship, and more.
Lifetimes of experience and wisdom are shared, including "war stories," strategies for success, avoidance of common pitfalls, and discussions of the authors' personal views and motivations. Career Development in Bioengineering and Biotechnology is an indispensable guide to some of the most exciting career and professional growth opportunities in science, engineering, and beyond, and a "must read" for anyone interested in a career related to this burgeoning field.
From the Foreword by U.S. National Medal of Science Laureate and Institute Professor Robert Langer, Massachusetts Institute of Technology: "This book provides a wealth of information and should serve as an excellent resource…The editors have gone to great effort to discuss a variety of critical topics in the burgeoning areas of bioengineering and biotechnology."

From the Introduction by Dr. Bruce Alberts, President Emeritus of the U.S. National Academy of Sciences and Co-chair of the InterAcademy Council: "I am very impressed with the enormous dedication and skill that created this major, highly-original contribution – I know of nothing like it."
From the Editorial by Dr. Joachim Nagel, President, International Union for Physical and Engineering Sciences in Medicine, and past president of the International Federation for Medical and Biological Engineering: "This book provides all the answers and can be highly recommended as the ultimate guide to anyone interested in bioengineering and biotechnology. The book arrives at a crucial time, and catapults bioengineering and biotechnology to the forefront of disciplines and to a rightly held pinnacle of inspiration for engineers, scientists, and technologists."

From the Afterword by Dr. Shu Chien, President, Biomedical Engineering Society and past president of the American Physiological Society and of the American Institute of Medical and Biological Engineering: "…this is truly an outstanding book that is the first of its kind...certainly a pioneering contribution."
Praise for the Book
"Bioengineering and Biotechnology are emerging as distinct disciplines amid the biological revolution and during a period of rapid globalization. These interesting times offer us unprecedented opportunities for professional and personal growth. This book covers many important areas of opportunity, including entrepreneurship, finance, law, and education, with a global perspective. The legacy of our times will include how well we used our rapidly advancing technologies to improve the world around us. This book provides a roadmap for the contributions of Bioengineering and Biotechnology in this quest."
-James E. Moore, PhD, Texas A&M University
"This book will be essential reading for all those seeking career guidance in bioengineering and biotechnology."
-Tony Bradshaw, PhD, Director bioProcessUK - BioIndustry Association (BIA), Chairman, The Royal Academy of Engineering/BIA Life Scientists' Career Seminars
"...the topics [are] quite extensive covering definitions, core curriculum, career opportunities, including a wide range of alternative career pathways as well as social and ethical issues. The material covered is unlike any of the standard publications related to these fields of activity... [the book] can be read at different stages of one's career."
-Joseph D. Bronzino, PhD, Trinity College
"...once I started reading it, [I] could not put it down. In less than three days, I read it all, absorbing the stories and details as if I was consummed by watching a high action movie... The breath and depth of the wisdom is phenomenal, and the stories shared by the writers are moving, inspiring, and shine of intelligence in seizing one's own passion and talents and turning them into stellar professional careers."
-Nathalie Gosset, MS, MBA, Head of Marketing, Alfred Mann Institute for Biomedical Engineering, University of Southern California
"This is a functional book with immediate impact, and is very helpful to those who need and desperately want help in making a career choice."
- Jonathan Newman, Graduate Student in Biomedical Engineering, Georgia Institute of Technology, USA
"This is an exciting undertaking and very well thought through and balanced. I enjoyed very much reading the chapters I have reviewed. Congratulations to all contributors and the editors of this book."
- Gudrun Zahlmann, PhD, Director of Business Development, Siemens Medical Systems, Germany
"I am very excited about this book. As a bioengineering educator, I am always looking for information that can provide guidance for students as they prepare for their careers. The contributors in this book are so enthusiastic about their careers that many of the chapters made me want to switch careers on the spot! I believe that engineering students do not receive enough guidance on alternative career paths. This book will very much help fill the void."
- Judy Cezeaux, PhD, Professor of Biomedical Engineering, Western New England College, Massachusetts, USA
Keywords
Career development
Clinical Engineering
Joachim Nagel
Management
Professional responsibility
Robert Langer
Shu Chien
Siemens
bioengineering
biomedical engineering
biotechnology
career
education
preparation
profession
Bibliographic information
DOI

https://doi.org/10.1007/978-0-387-76495-5

Copyright Information

Springer-Verlag New York 2008

Publisher Name

Springer, New York, NY

eBook Packages

Engineering Engineering (R0)

Print ISBN

978-0-387-76494-8

Online ISBN

978-0-387-76495-5

Series Print ISSN

1864-5763