© 2007
Wireless Communications 2007 CNIT Thyrrenian Symposium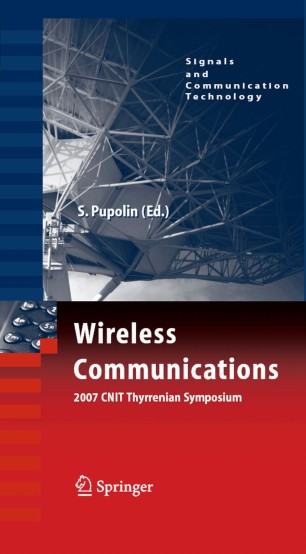 Table of contents
4G Wireless Systems

Ad-Hoc and Cellular Networks

Security and Applications in Wireless Networks

Qos and Efficiency in Multimedia Heterogeneous Wireless Networks
About these proceedings
Introduction
Wireless Communications: 2007 CNIT Thyrrhenian Symposium compiles the papers presented at the 2007 Thyrrenian International Workshop on Digital Communication held in Italy in September of 2007. The papers represent the new aspects of wireless communication systems that approach the challenge of moving towards multimedia communications and IP technology.
The various aspects covered are:
Creating a secure wireless network for IP

Ensuring Quality of Service (QoS) for the heterogeneous wireless networks

Collecting data for several applications with one network
The book is organized into five sessions that cover different topics. The five sessions are "4G Wireless Systems", "Ad-Hoc and Cellular Networks", "Security and Applications in Wireless Networks", "QoS and Efficiency in Multimedia Heterogeneous Wireless Networks", and "Wireless Sensor Networks".
Wireless Communications: 2007 CNIT Thyrrhenian Symposium is an up-to-date critical analysis of the state-of-the-art in each of the five areas above and is a reference for future development.
Keywords
802.11
Code Division Multiple Access
IEEE 80
Long Term Evolution
MIMO
Orthogonal frequency-division multiplexing
Overhead
Quality of Service
Quality of Service (QoS)
Routing
WLAN
ad-hoc network
antenna
ultra-wideband
wireless sensor network
Bibliographic information