Hair Cell Regeneration, Repair, and Protection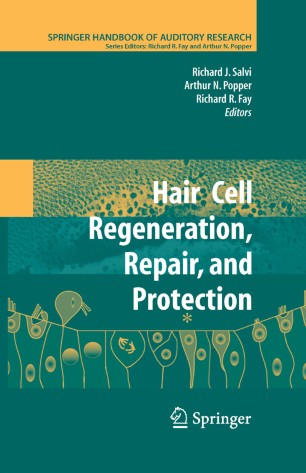 About this book
Introduction
The sensory hair cells in the inner ear and vestibular system convert mechanical stimuli, sound and motion into neural activity that is responsible for the sensations of hearing, motion and head position. In mammals, the loss of hair cells from acoustic overstimulation, ototoxic drugs and aging is irreversible, leading to a permanent loss of function. However, it is now clear that hair cells in other vertebrates are capable of regenerating and recovering partial or complete function. Moreover, partially damaged hair cells can undergo self-repair or be protected from traumatic insults by external compounds.
Hair Cell Regeneration, Repair, and Protection provides a comprehensive survey of what is currently known about the regeneration, repair and protection of sensory hair cells and subsequent recovery of function in the auditory and vestibular system. The aim is to provide graduate students, postdoctoral fellows, clinicians and scientists in related disciplines with the biological bases of hair cells and with an understanding of the factors that contribute to their regeneration and repair.
Table of Contents:
Overview: Regeneration and repair Richard J. Salvi

Morphological Correlates of Regeneration and Repair in the Inner Ear Jason R. Meyers and Jeffrey T. Corwin

The recovery of function in the avian auditory system following ototrauma James C. Saunders and Richard J. Salvi

Functional recovery following hair cell regeneration in birds Robert J. Dooling, Micheal L. Dent, Amanda M. Lauer, and Brenda M. Ryals

Hair cell regeneration: Mechanisms guiding cellular proliferation and differentiation Elizabeth C. Oesterle and Jennifer S. Stone

Protection and repair of inner ear sensory cells Andrew Forge and Thomas R. Van De Water

Gene arrays, cell lines, stem cells, and sensory regeneration in mammalian ears Marcelo N. Rivolta and Matthew C. Holley
About the editors:
Richard J. Salvi, Center for Hearing and Deafness, University of Buffalo, NY. Arthur N. Popper is Professor in the Department of Biology and Co-Director of the Center for Comparative and Evolutionary Biology of Hearing at the University of Maryland, College Park. Richard R. Fay is Director of the Parmly Hearing Institute and Professor of Psychology at Loyola University of Chicago.
Keywords
cells
ear
hair cells
hearing
trauma
vertebrates
Bibliographic information
DOI

https://doi.org/10.1007/978-0-387-73364-7

Copyright Information

Springer Science+Business Media, LLC 2008

Publisher Name

Springer, New York, NY

eBook Packages

Biomedical and Life Sciences

Print ISBN

978-0-387-73363-0

Online ISBN

978-0-387-73364-7

Series Print ISSN

0947-2657