Glycerophospholipids in the Brain
Phospholipases A2 in Neurological Disorders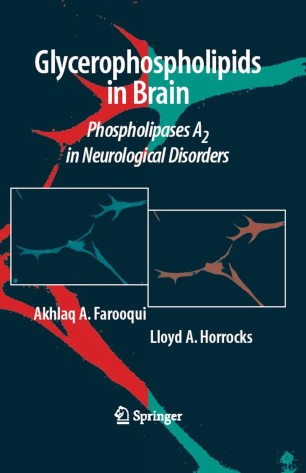 About this book
Introduction
Glycerophospholipids in Brain: Phospholipases A2 in Neurological Disorders
Akhlaq A. Farooqui and Lloyd A. Horrocks
Glycerophospholipids in Brain: Phospholipases A2 in Neurological Disorders provides a synthesis of material on the metabolism of phospholipids in the brain which has previously only been available in a scattered number of original papers and reviews. Here, the research of over 25 years is collected in one volume from two of the leading researchers in the field— Akhlaq A. Farooqui and Lloyd A. Horrocks
Glycerophospholipids in Brain: Phospholipases A2 in Neurological Disorders comprehensively describes:
metabolism in brain of glycerophospholipids, including those containing a vinyl ether group (plasmalogens)

cutting-edge information on the properties and roles of phospholipases A2 in the central nervous system

release by phospholipases A2 of second messengers (arachidonic acid, docosahexaenoic acid, and lysophospholipid) from neural membrane phospholipids and their neurochemical effects on brain metabolism and function

involvement of phospholipases A2 in neurological and neuropsychiatric disorders, and the use of phospholipase A2 inhibitors for the treatment of diseases associated with altered phospholipid metabolism

methods for the assays of phospholipases A2 and their clinical significance
This unique volume will be invaluable not only to those interested in biochemical properties of phospholipases A2, but also their involvement in neurological disorders. Students will benefit from it as a supplement for a range of neuroscience courses. Clinicians will find it invaluable as well for understanding molecular aspects of neurodegeneration in acute neural trauma (stroke) and neurodegenerative diseases (Alzheimer disease) that are mediated by phospholipases A2.
The information in Glycerophospholipids in Brain: Phospholipases A2 in Neurological Disorders is presented in a lively manner that has never been attempted until now in this specialized format. It will be the essential text for the authoritative research in the field.
About the Authors
Akhlaq A. Farooqui and Lloyd A. Horrocks are leaders in the fields of phospholipid metabolism and phospholipases A2 in brain. They have published cutting edge research on phospholipases A2 and their involvement in neurological disorders in brain tissue. In collaboration with Dr. Yutaka Hirashima, they have discovered a plasmalogen-selective phospholipase A2 in brain. They have also studied phospholipids composition of neural membranes and activities of phospholipases A2 in neural membranes. Lloyd A. Horrocks is the founding editor of Molecular and Chemical Neuropathology and has edited seven books.
Keywords
Brain
Disorder
Farooqui
Glycerophospholipids
Horrocks
Nervous System
Neurological
Phospholipase
Bibliographic information