Alzheimer's Disease
Advances in Genetics, Molecular and Cellular Biology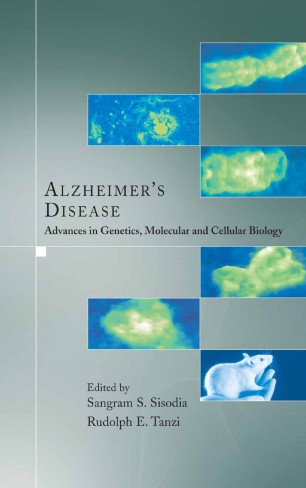 About this book
Introduction
Alzheimer's Disease: Advances in Genetics, Cellular and Molecular Biology provides exciting, comprehensive and up-to-date summaries of the most important recent advances in the genetic, molecular, biochemical, and cell biological studies of AD. The studies and advances described in this volume will help to accelerate the process of rational drug discovery and soon serve to extend and enhance the mental health and lifespan of our burgeoning elderly population.
In 1906, Dr. Alois Alzheimer presented the case of his patient, Auguste D., a 51 year-old female admitted to the local asylum who presented with early memory impairments, psychoses, hallucinations and morbid jealousy. Dr. Alzheimer would argue that specific lesions that were present in and around neurons were responsible for dementia. In the ensuing decades, studies of the disorder that affected Auguste D., which would be named Alzheimer's disease (AD), were largely limited to descriptive neuropathological and psychological assessments of this disease, but with little understanding of the molecular and cellular mechanisms underlying neurodegeneration and dementia.
This would change in the 1980s when the protein components of the major neuropathological hallmarks of the disease, senile plaques (and cerebral blood vessel amyloid) and neurofibrillary tangles were first determined. The identification of the ß-amyloid protein (Aß) and the microtubule-associated tau protein as the main components of plaques and tangles, respectively, would pave the way for the molecular genetic era of AD research. By the late-1980s, the genes encoding the ß-amyloid precursor protein (APP) and tau (MAPT) were identified and would subsequently be shown to harbor autosomal dominant mutations causing early-onset familial AD and frontal temporal dementia (FTD), respectively. In the early 1990s, the e4 variant of the apoliprotein E gene (APOE) would be found to be associated with increased risk for late-onset AD. APP mutations increased the generation and subsequent deposition of the neurotoxic peptide, Aß42, in brain while APOE-e4 affected aggregation of Aß into fibrils and its clearance from brain. In 1995, genes encoding presenilin 1 and 2 (PSEN1, PSEN2) were identified, and mutations in MAPT were linked to frontal temporal dementia. Thus, by 1995, the stage was set for molecular studies of age-related dementias with APP, presenilin 1 and 2, APOE, and tau playing the major roles.
The vast majority of studies addressing the molecular mechanisms underlying dementia would continue to focus on characterizing the five genes already firmly implicated in the etiology and pathogenesis of these dementing disorders, and these efforts have provided a firm foundation for translational studies that will hopefully serve to take these findings from the bench top to the bedside designing and developing novel ways to diagnose, treat, and prevent these diseases.
Keywords
Alzheimer
Alzheimer's disease
biochemistry
cellular biology
genetics
molecular biology
Bibliographic information