Behavioral Consultation and Primary Care: A Guide to Integrating Services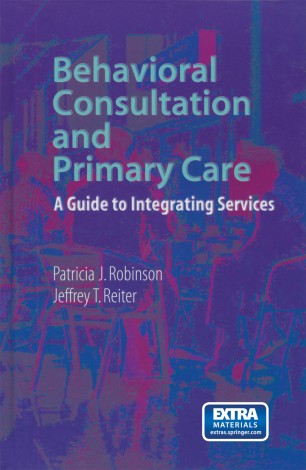 Table of contents
About this book
Introduction
Comprehensive, wise, and incredibly practical, this exciting volume walks through the joys and challenges of an entirely new vision of behavioral health consultation in primary care settings. Gently, and with good humor, the authors show how to avoid key errors, and provide a detailed, point by point guideline for success in an effective and needed new form of practice. You will forever think differently about the proper role of behavioral health providers in health care delivery. Even better, you will be prepared to do something about it. -- Steven C. Hayes, University of Nevada
The Primary Care Behavioral Health (PCBH) model is fast emerging as the future of integration between mental health and primary care services. As the first book to detail the model, Behavioral Consultation and Primary Care: A Guide to Integrating Services explains in hands-on terms how to achieve truly integrated care. From starting up a new PCBH service to evaluating its outcome, clinicians and medical administrators alike will find much of value here.
Written by two veteran Behavioral Health Consultants (BHCs), the Guide offers a wealth of practical advice for all levels of therapists entering primary care. Every detail of BHC work is discussed, ranging from key job competencies to proven strategies for navigating challenging new terrain. Detailed case examples also bring theory to life for a wide variety of common clinical problems.
Real-world features designed to help establish a service and ease the transition from specialty mental health to primary care:
-Specific administrative recommendations for setting up a BHC office, scheduling patients, billing, and staffing
-Start-up checklist, chart note templates, handouts for generating referrals, and other valuable tools
-Chapters outlining the therapeutic approaches and assessment methods best suited to BHC work
-Creative strategies for influencing that new colleague--the primary care provider-Case examples to illustrate typical consultations with children, adults, and older adults, as well as innovative group approaches
-Tips for handling ethical concerns unique to the PCBH model, and professional and personal challenges unique to the primary care setting
The authors' lively and engaging style is accessible to a wide range of professionals, so seasoned practitioners and neophytes--as well as the administrators who hire them--will find this material totally accessible. In addition to assisting professionals in the field, the Guide is perfectly suited for use in a variety of graduate classes and residency training programs.
Keywords
BHC
Behavioral Health Consultants
PCBH
assessment
care
Bibliographic information