Handbook of Bioterrorism and Disaster Medicine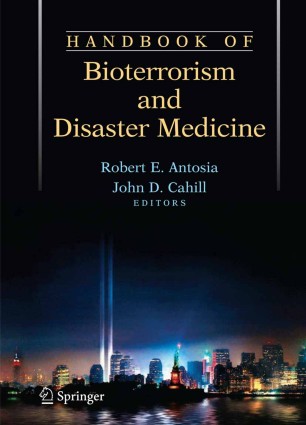 Table of contents
About this book
Introduction
This comprehensive volume, written by experts in the field, is the essential portable handbook on bioterrorism and disaster medicine. The volume covers all pertinent topics with meticulous organization and includes an abundance of invaluable web-based resources. Written as both a practical and clinical guide to various types of disasters, it includes planning and response procedures to help mitigate the impact of disasters on affected individuals and communities. Designed to be used in the field, all the essential aspects are included: public health, bioterror agents, chemical warfare, radioactive agents, manmade disasters, natural disasters, humanitarian disasters, infectious and tropical diseases, and basics of emergency medicine. Handbook of Bioterrorism and Disaster Medicine is the ideal tool for researchers, first responders, medical students, physicians, and other healthcare providers who work in the field.
About the Editors:
Dr. Robert Antosia is an attending physician at Beth Israel Deaconess Medical Center in Boston, Massachusetts and an Assistant Professor at Harvard Medical School. He is trained and board certified in Emergency Medicine and is a Fellow of the American College of Emergency Physicians. He is a graduate of Brown University School of Medicine and also has a Masters degree in Public Health from Harvard University. Dr. Antosia has extensive medical writing experience with numerous publications in peer-reviewed journals and textbooks, as well as prior international, public health, and disaster-related experience. He has also lectured at local, national, and international forums including England, Ireland and Italy. In addition, he has published numerous abstracts, original articles and authored several book chapters.
Dr. John D. Cahill, a specialist in international emergency medicine and tropical medicine, is an
attending physician in Emergency Medicine and Infectious Diseases at St. Luke's Roosevelt Hospital Center in New York, New York. He is assistant professor of emergency medicine at Brown Medical School in Providence, Rhode Island and is a visiting lecturer for the Royal
College of Surgeons in Ireland. He is a diplomat of the American
Board of Emergency Physicans and is a fellow of the American College
of Chest Physicians and the Royal Society of Tropical Medcine and Hygeine. Dr.
Cahill has provided medical expertise in many regions of the world,
including Africa, Asia, Europe, and South America. Dr. Cahill is a
graduate of Mount Sinai School of Medicine, USA and holds postgraduate
diplomas from the Royal College of Surgeons in Ireland, Fordham
University, and the University of Geneva, Switzerland.
Keywords
AIDS
Malaria
Schistosomiasis
Sexually Transmitted Diseases
hygiene
infectious
infectious disease
infectious diseases
virus
Bibliographic information