© 2008
Earnings Management
Emerging Insights in Theory, Practice, and Research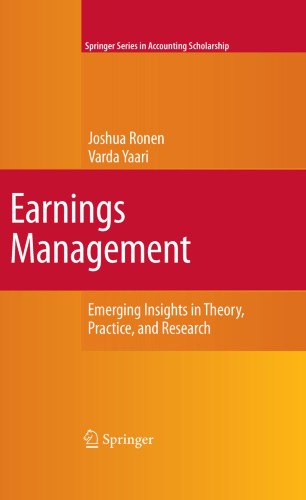 About this book
Introduction
In the wake of corporate accounting scandals, the bursting of the Internet bubble, and the Sarbanes-Oxley Act—designed to protect investors and consumers from such excesses—"earnings management" (the set of managerial practices and decisions that influence accounting choices and operating cash flows) has become a focal point of business strategy and academic research. Earnings Management: Emerging Insights in Theory, Practice, and Research is the most comprehensive book to date on the subject, aimed at scholars and practitioners in accounting, finance, economics, law, and public policy. Tracing two key strands of research over the past 25 years—one focused on explaining the phenomenon and one on proposing suggestions for improving practice—the authors highlight theoretical and empirical contributions to the field, as well as regulatory innovations and corporate applications.
Featuring numerous illustrative examples, models, and analytical techniques, the book covers such timely and important topics as:
Why are earnings so important that firms feel compelled to manipulate them?

What set of circumstances will induce earnings management?

How will the interaction among management, boards of directors, investors, employees, suppliers, customers and regulators affect earnings management?

Can truthful reporting be considered earnings management?

What are the motivations for smoothing and other reporting strategies?

How can scholars design empirical research to address earnings management?

What are the limitations and strengths of current empirical models?
Part 1 establishes the context of contemporary earnings management and presents definitions of key concepts. Parts 2 and 3 provide a review of the empirical and analytical research, respectively. Part 4 discusses the challenges of research design and considers directions for future research. An extensive bibliography lists over 2,000 publications.
"Earnings management has emerged as a fundamental area of accounting research. Professors Ronen and Yaari provide a comprehensive and provocative treatment of this vital subject. This book is a must read for doctoral students, as well as established researchers, hoping to do work related to earnings management."
Martin P. Loeb, Deloitte & Touche Faculty Fellow, Professor and Chair
Robert H. Smith School of Business
University of Maryland
Keywords
Finance
Reporting
accounting misreporting
accruals management
capital market research
earnings management
principal agent
Bibliographic information
Reviews
From the reviews:
"Provides a comprehensive overview of academic research … . suited for most types of readers, from accounting researchers to managers. Still, I envision doctoral students and more experienced accounting scholars to be the primary target audience for this book. … In my opinion, this book is very well written and executed … . Within its scope, this book is an accounting scholar's must-have, an interesting read providing us with not only the author's perspective on earnings management but also a very useful literature overview." (Vedran Capkun, The International Journal of Accounting, Vol. 46 (2), June, 2011)