Biosaline Agriculture and Salinity Tolerance in Plants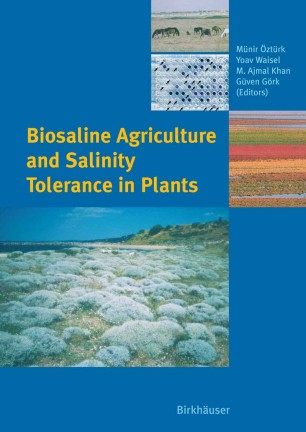 About these proceedings
Introduction
The availability of freshwater for agricultural use is declining in many areas of the world. This is the reason for the increasing use of lower quality or of saline water for crop production. Prolonged use of saline water severely affects the irrigated soils, which contributes to the global land degradation process and has direct impact on biomass production.
For this reason, reduction of the spread of salinization, revitalization of salinized areas and introduction of salt tolerant high-yielding crops are important issues. The potential role of halophytes in the management of salinity problems of arid lands is investigated at length nowadays; some of these produced promising forage crops.
This volume focuses on reclamation, management, and utilization of salt-affected soils, their sustainable use, and evaluation of plants inhabiting naturally occurring saline habitats. It is of interest to scientists and students as well as to agricultural institutions and farmers and will undoubtedly raise the scientific community's awareness of, and interest in salinity issues.
Keywords
Kali
Transpiration
bacteria
environment
nitrogen
photosynthesis
quality
soil
vegetation
Bibliographic information