Advances in Targeted Cancer Therapy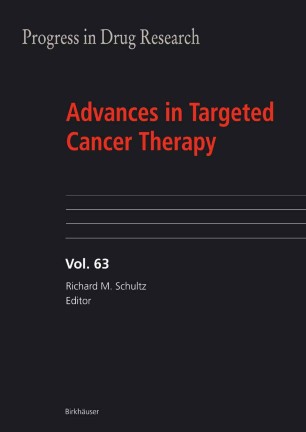 About this book
Introduction
There have been tremendous advances in our understanding of molecular and tumor biology during the past few years. In the field of cancer therapeutics, it is expected that cytotoxic drug approaches will be gradually replaced with treatments based on biological targeted approaches. Hopefully these new targeted therapies will significantly increase efficacy and lack the devastating and troublesome side effects elicited by cytotoxic chemotherapy.
This volume is the first book to cover the general topic of targeted cancer therapy. It presents a range of targets such as tumor angiogenesis, cell cycle control and cell signalling, COX-2, apoptosis/cell survival, invasion and metastasis and approaches like kinase inhibitors, antisense, and antibody-based therapeutics. The emphasis is on preclinical development, including target validation, development of biomarkers, strategies for combination approaches, and development of resistance. The particular challenges involved in translating these data to clinical application are discussed.
This volume should be of broad general interest to researchers and clinicians involved in cancer therapy as well as other scientists interested in current strategies for cancer treatment.
Keywords
angiogenesis
antibody
apoptosis
cancer
cancer prevention
cancer therapy
cancer treatment
cell
metastasis
pharmacology
prevention
receptor
tumor
Bibliographic information